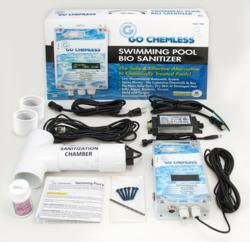 the Go Chemless Bio Sanitizer is a great alternative for the pool owner that wants to get away from Chlorine and Salt Cell Systems
Fort Lauderdale, FL (PRWEB) May 25, 2012
Go Chemless Inc, the company known for developing and offering swimming pool owners a healthier choice to sanitize their swimming pool with the use of natural ions and modern day computing power, will be publicly unveiling the newest member of their swimming pool Bio Sanitizer line at the Fort Lauderdale, Florida Home Design and Remodeling Show, May 25th - 28th at the Broward County Convention Center.
With over 800 exhibitors, the Home Design and Remodeling Show draws crowds in excess of 70,000 home owners, looking for ideas on how to spruce up their home. The exhibitors range from fine home furniture, accessories, remodeling, interior design, kitchens and baths, appliances, home theaters, home improvements, pools and spas, patios, landscaping, and an array of products and services for the interior and exterior of the home... all under one roof.
There are many new and innovative energy efficient swimming pool accessories and alternatives to swimming pool chemicals and sanitization that will be premiered at this year's event. From the introduction of Variable Speed swimming pool pumps, that offer pool owners tremendous electrical savings to pool ionizers for reducing chemical exposure to swimmers.
Go Chemless is one of the main featured exhibitors at this year's event. The Go Chemless' Bio Sanitizer offers the swimming pool consumer a safe and healthy alternative to Chlorine and Saltwater swimming pools. Go Chemless' co-founder and chief engineer Michael Self said, "We are really happy to be attending the Home Design and Remolding Show. This is a great opportunity for us to meet and greet home owners." Michael went on to say, "Many homeowners are coming to the show to get ideas on how to improve their home and swimming pool area. Our Go Chemless Bio Sanitizer is a great alternative for the pool owner that wants to get away from Chlorine and Salt Cell Systems because of all the known links to Trihalomethanes (THM's) and other cancer causing agents." Trihalomethanes are found in Chlorine and in Saltwater pools, they are absorbed through the skin, which are collectively linked to cause cancer as well as being linked to low testosterone, miscarriages and birth defects.
The Go Chemless Swimming Pool Bio Sanitizer is sold in most pool stores and pool services. If your local pool store does not carry the Go Chemless Swimming Pool Bio Sanitizer, contact the company directly to find the closest dealer in your area.
About Go Chemless:
Go Chemless' mission is to bring to market quality, technological solutions that reduce exposure to harmful chemicals in swimming pools. Go Chemless has pioneered the use of multiple electrode base elements and measured multi-electrode electrolysis to achieve the pool industry's first bio sanitizer with "set it and forget it" intelligence. This combination of revolutionary green technology and leading edge computing is the first of its kind to battle viruses, fungi, bacteria and algae found in all pools, while reducing or eliminating the use of harmful and dangerous chemicals.
For company contact information and partnership opportunities, visit http://www.GoChemless.com
For More information:
Liz Kimbers
Liz.Kimbers(at)GoChemless(dot)com
(855) 424-3653 Toll-Free