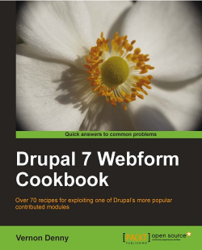 Birmingham, UK (PRWEB) May 25, 2012
Drupal 7 Webform Cookbook, published by Packt this month, is the first book available on Drupal Webforms. The book is designed in cookbook style and contains over 70 recipes to help readers get an in-dept understanding of webforms. Readers can learn how to install, use, customize and extend webforms in easy ways.
Webform is a module for making surveys in Drupal. After a submission, users maybe sent an receipt as well as sending a notificiation to administrators. Examples include contests, personalized contact forms, or petitions. Each of these could have a customized form for end-users to fill out. Source: http://drupal.org/project/webform
Drupal 7 Webform Cookbook provides comprehensive coverage on topics such as setting up webform, building and testing webform components, working with submissions, form customization, theming webform and creating custom modules among other things. For chapter by chapter coverage, visit the publisher book page: http://www.packtpub.com/drupal-7-webform-popular-contributed-modules-cookbook/book
With this book a user can quickly create robust, professional forms, make personalized re-usable select options list and tweak webform behaviour to suit almost any context. It is easy constructing forms with dynamic content as per user input.
Practical demonstrations facilitate readers to get clear understanding of how things work with Webforms, right from designing coherent forms to sending effective HTML emails and managing data. The book also explains how to extend and tune Webform with custom components and functionality.
The book requires readers to have a basic knowledge of Drupal. Visit this page for complete details about the book: http://www.packtpub.com/drupal-7-webform-popular-contributed-modules-cookbook/book