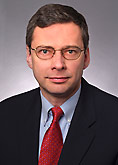 Chicago, IL (PRWEB) May 26, 2012
In advance of the 2012 Brinks Innovation Competition to be held in September, Brinks Hofer Gilson & Lione held its annual "Where Are They Now?" luncheon for members of the legal, investor and clean technology communities at the firm's Chicago office on May 9, 2012.
The luncheon was hosted by Brinks shareholder James P. Naughton, co-chair of the Brinks Innovation Competition. Highlights included presentations by two of the 2011 Brinks Innovation Competition winners: Catacel Corporation, represented by Dave Becker, VP of manufacturing and operations, and Ecologic Tech, represented by CEO Jerry Lui. Both speakers discussed their respective companies' inventions and plans for growth.
The luncheon included a panel discussion, "Trends in Global Clean Tech Funding," featuring Shez Bandukwala, managing director, head of cleantech investment banking at KPMG and board member at the Association for Corporate Growth; John Krzywicki, a principal at True North Venture Partners; and Alex Tang, vice president of programs and finance at Clean Energy Trust.
The panel was moderated by Allen Dines, co-chair of the Brinks Innovation Competition and assistant director, University of Wisconsin-Madison, Office of Corporate Relations. Mr. Dines is president of the Midwest Research University Network, created to foster commercialization of university research.
Now in its fourth year, the Brinks Innovation Competition is the centerpiece of the 2012 Midwest Clean Tech exposition, which this year is being held in conjunction with the 2012 International Manufacturing Technology Show.
Peter Eelman, vice president of exhibitions and communications for the Association for Manufacturing Technology, provided an update on the International Manufacturing Technology Show, describing its collaboration with the Midwest Clean Tech Conference and the Brinks Innovation Competition, and the gradual resurgence of the U.S. manufacturing sector.
The Brinks Innovation Competition has become a preeminent venue for entrepreneurs in new clean technologies to present venture-ready business ideas to the scientific and research communities and potential investors. Inventors submit their products, services or processes to a qualified panel of experts—competing not only for a cash award, but also for opportunities to explore licensing and funding, network with investors and help their ideas become reality. Submissions are judged by a panel of experts representing regional universities, venture capitalists and clean tech business executives.
To learn more or to download an application, visit: http://www.midwestcleantech2012.com or http://www.brinkshofer.com/innovation.
About Midwest Clean Tech 2012
Midwest Clean Tech 2012 is a one-day exposition to be held on September 12, 2012, in conjunction with the International Manufacturing Technology Show at Chicago's McCormick Place Convention Center. Midwest Clean Tech 2012 will feature Midwest excellence in clean technology innovation, products and services. Keynote speakers will address U.S. and international policy and areas of opportunities in clean technologies. Midwest Clean Tech is co-presented by the Global Midwest Alliance, the Midwest Research University Network and the Economic Development Council. Information is at http://www.MidwestCleanTech2012.com.
Brinks Hofer Gilson & Lione
Brinks has more than 140 attorneys, scientific advisors and patent agents who specialize in intellectual property, making it one of the largest intellectual property law firms in the U.S. Clients around the world use Brinks to help them identify, protect, manage and enforce their intellectual property. Brinks lawyers provide expertise in all aspects of patent, trademark, unfair competition, trade secret and copyright law. The Brinks team includes lawyers with bachelors and advanced degrees in all fields of technology and science. Brinks has offices in Chicago, Washington, D.C., Research Triangle Park, Salt Lake City, Ann Arbor and Indianapolis. More information is available at http://www.usebrinks.com.