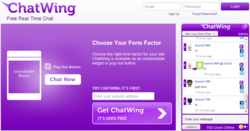 Seattle, WA (PRWEB) May 25, 2012
Yahoo is built on the premise of pure information and leisure delivery, based on the different options that users can explore. Along with that, traditional users can enjoy a continuous stream of Yahoo articles and even a bunch of games. Yahoo is also the source of news, fashion trends, and different tips that can be uncovered. The Chatwing development team has recently observed that some Yahoo users are visiting the blog chat box. These users were often talking about Yahoo trends and current events.
While Yahoo excels in information, Chatwing gains ground through the premise of blog and website chat. Through this, Chatwing grants leverage to many people and even offers them different blogging opportunities. Chatwing is also adaptable to many online communities because people can use them whatever their purpose is. In Chatwing, there are lots of topics and discussions to choose from. Online entrepreneurs also use Chatwing as an extension of customer service wherein visitors can post their inquiries and suggestions.
Yahoo users were also enticed to stay in Chatwing because of the chat tool's social media integration. The tool allows them to log in with their Facebook or Twitter accounts, allowing a greater chance to communicate properly at a steady rate. Also, the latest version of the Chatwing shout box can hold up to 600 active users. This makes global chat worthwhile, fun, and informational.
Many bloggers, especially Yahoo users, have also commended Chatwing's easy installation process. Unlike other chatrooms, Chatwing's navigation is easier and the installation can be accomplished within seconds. Chatwing also offers high rate of customization. This gives users the real edge in competitive blogging.
Chatwing chat widget also an active Facebook page that can be visited by everyone. This Facebook page is always updated with fresh and helpful content. In Chatwing's main website, people can try out the embedded chat box. There is also an admin present ready to answer the questions and inquiries from visitors.
About Chatwing.com
Chatwing.com has developed live chat software for websites and blogs. It caters to different online communities due to its high rate of connectivity. Everyone can create a customizable live web chat feature in 1 minute or less. Users have the ability to customize the size, color, and fonts of the chat product. The ability to chat via social media accounts such as Facebook and Twitter enable Chatwing to offer a personal and unique real-time experience to all sites. Chatwing is 100% free and very easy to use.