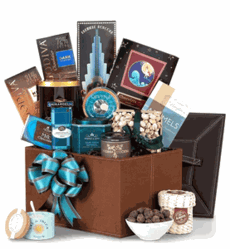 We're excited to announce new products just in time for Fathers Day
San Francisco, CA (PRWEB) May 25, 2012
MyGiftBasketIdeas.com, a leading online retailer, announces an extension of products in its selection of Fathers Day gift baskets. The company has amped up its selection of gift baskets for Dad's just in time for the June 17th holiday in response to customer demand for more variation.
A company spokesperson for the website spoke of the new line of products that are now available on a dedicated section.
"We are very excited at MyGiftBasketIdeas.com to announce the arrival of a new range of gift baskets crafted especially for the gentleman out there. Following the success of our cigar gift basket, customers contacted us with positive feedback and requests for more themes to be made available for Dad's day. With this in mind, we are announcing the arrival of new products in plenty of time for baskets to be delivered in time for Father's Day."
When asked to give an example of one of the new products on offer, the spokesperson shared further details.
"For years, we have been providing a fun and varied line of gift baskets and now we have the best for guys too. Shoppers are invited to help him kick-off the summer grilling season in style with our BBQ Sauce Gift Basket, containing a BBQ utensils set, gourmet sauces and delicious Wisconsin smoked cheddar. This option is currently retailing with a generous 26% discount. Customers are encouraged to purchase early while stocks last, to avoid disappointment."
A long-standing customer of MyGiftBasketIdeas.com, Maggie Swenson of Spokane, WA, gave her opinion about the new gift Father's Day gift baskets after having reviewed the website.
"My brother and I always have a hard time finding something fun for dad's birthday, so these new products will be good for other occasions as well as Father's Day. Dad's golf crazy, so I am very pleased to see a couple of golf-themed options included!"
The complete range of selections for men can be viewed on the website of Gift Basket Ideas, Inc.
###