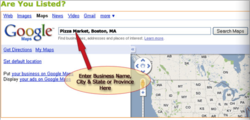 If an owner hasn't claimed their business on Google Places yet, they should do so today considering the fact that, if they don't, spammers probably will.
Austin, TX (PRWEB) May 29, 2012
Google populates listings from sources such as Yellow Pages, Superpages etc. Most of the time these places are unverified, and for one order to edit their business information, they must claim it first. If an owner hasn't claimed their business on Google Places yet, they should do so today considering the fact that, if they don't, spammers probably will. If a business isn't listed already for reasons such as it not being listed in a phone book or other source, on can add your business listing as well.
Here's the basic rundown for updating, editing and adding a listing to Google Maps:
--Is it listed?--
The first step is checking to see if the business is listed in Google Maps. When searching for the business name, one should include the city and state in the search bar.
If it's not listed, one can go here to submit it.
--View an Unverified Listing--
If the listing is there, one should check and see if it reads "Unverified." If so, the next step is clicking on the title of the business in the search results or on the "more info" link. Different views may be presented depending on which one is clicked, but it will lead to the same info.
--View Listed Details and Edit--
The listing will pop up as a bubble on the map. One can click on the "Edit" link then add the correct information and fill in as much as possible.
--Start the Claiming Procedures--
Since the listing hasn't been claimed, another pop up will appear on the map area, but this time it will read "Are you the owner? Claim your business." One should click that linked text.
Next up is logging in via Google account. One can create one here if necessary.
One will be able to use various other Google services with this account, such as Analytics ( website statistics ), AdWords ( pay-per-click advertising ), WebMaster Central ( spot problems search engine bots are having with the website ) and other tools.
--Add Business Details--
The next step is entering the business contact info, being as descriptive as possible. On the next screen, one can add more info like categories of the business, hours of business and methods of payment that are accepted, and also upload videos and images, etc.
--Validate the Listing--
The final step is validating the listing. Google wants to make sure that it is indeed the user's business that they are trying to claim, and they do this by contacting the user with a phone call, text message or postcard. Texts and phone calls are of course the fastest, but they aren't always as reliable.
The Call Method: If the phone validation is chosen, one will receive a phone call shortly after they click the "Call Me Now" button. Then it's as simple as following the automated instructions and entering the PIN number that appears on the screen.
Mail Validation: A postcard will arrive in the mail with instructions for validation.
Once the business has been verified by submitting the pin, it can take some time for it all to go live. Once it is, any current satisfied customers should be emailed and asked if they'd be kind enough to leave a review. A good idea is sending them the URL (aka link) that directs them right to the page they will need to do this, making it easy on them.
For step-by-step instructions on getting found on Google Places, further explained with helpful graphics, click here.
Study Breaks College Media provides a one-stop solution for small businesses, providing them with big marketing strategies and delivering college students.
Study Breaks magazine is an award-winning line of monthly entertainment magazines for college students with a mission can best be explained through its slogan: We are college life. Published by Shweiki Media, it is distributed in five Texas cities (Austin, Houston, San Antonio, San Marcos and Lubbock) and three southeast cities (Athens, GA; Auburn, AL; Columbia, SC). (Studybreaks.com)