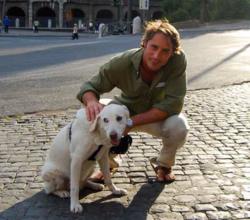 We must come together to ban all abuse to our innocent and loving animal friends.
Albany, NY (PRWEB) May 27, 2012
Prince Lorenzo Borghese will join New York State legislators and hundreds of animal rights activists in Albany June 13 for the 2nd annual Animal Advocacy Day. Taking place in the Well of the Legislative Office Building (LOB) in Albany, Borghese will join Assemblyman Jim Tedisco, Senator Greg Ball, and other legislators from both sides of the aisle to strengthen New York's animal cruelty laws – already among the toughest in the nation.
Borghese, a New York City resident, is a familiar face in New York's animal welfare scene where he lends a welcome voice to a multitude of charitable organizations whose mission is to improve the quality of life for the planet's animal population.
He has also teamed with Animal Aids' veterinary partners for low-cost spay and neuter services in low income areas throughout the United States. Borghese's Royal Pet Club donates $2 from every new customer purchase and five percent of profits from Royal Treatment pet care products to support a spay/neuter program throughout the country.
Borghese was compelled to join the Animal Advocacy event to help bring awareness to the plight of abused animals.
"I am proud to be participating in Animal Advocacy Day to be a voice for the voiceless," Borghese said. "We must come together to end all abuse of our innocent and loving animal friends.
"I am continually shocked that our great nation hasn't implemented strict, uniform laws to stop the horrific abuse occurring daily. It is my intention to bring awareness to this issue and help get tougher laws implemented."
Animal Advocacy Day is the latest in a series of events launched In 1999, when more than 118,000 signatures were collected in New York State to pass the landmark Buster's Law creating the felony category of "aggravated cruelty to animals," punishable by up to two years in prison and a $5,000 fine. Buster's Law was named after an 18-month-old tabby cat that had been doused with kerosene and burned to death by a Schenectady teenager. As research indicates, violence against animals is a bridge crime that can, and has, led to violence against people.
Among the bi-partisan legislation being advocated for are measures to: require anyone convicted of Buster's Law to undergo a psychiatric evaluation (A.1580/S.5084 and A.1567/S.3805) and be placed on a registry of animal abusers (A.1506/S.3804) as well as bills to increase penalties for animal fighting (S.3806 and A.4407/S.3237). To learn more, visit the Animal Advocacy Facebook Page.
Borghese will also be hosting the Amazing Grace "Paint That Bus" campaign/fundraiser, in conjunction with Animal Aid USA in July. To learn more about Royal Treatment and Royal Pet Club, visit the Royal Pet Club website. To learn more about the Prince click here. To learn more about Animal Aid USA, visit the website at http://www.animalaidusa.org.
About Prince Lorenzo Borghese and Royal Pet Club:
Prince Lorenzo Borghese, founder and president of Royal Pet Club and Royal Treatment Italian Pet Spa, is passionate about the well being of animals everywhere. His line of pet-friendly organic products were originally created for his beloved Black Lab, Belle. For nine consecutive years, Royal Treatment has been the most successful pet line on the HSN shopping channel. A vocal advocate of spaying and neutering programs, Borghese donates five percent of Royal Pet Club profits plus $2 for every new customer to Animal Aid to support spay and neuter programs across the U.S. Through this program, families unable to afford the cost of having their dog spayed or neutered will be able to have the procedure done for free by a top veterinarian in their community.
Borghese's line of Royal Treatment products were developed to support pet wellness with premium, natural dog shampoos, conditioners, and other organic pet grooming supplies.
Borghese's Royal Pet Club is the online destination for the Royal Treatment line's natural pet spa and wellness products. Made from the finest organic ingredients and fragrance oils, Royal Pet Club's pet grooming products have been developed with the help of leading cosmetics manufacturers, world-renowned veterinarians, and other pet experts from around the world. Formulated in a cosmetics laboratory on the outskirts of Tuscany, Italy, all Royal Treatment grooming products are pH balanced for pet's sensitive skin.
Borghese has worked with numerous animal welfare organizations including North Shore Animal League, the ASPCA and Animal Care and Control of NYC. He is co-founder of NYC4ACC, a group of young professionals who organize fundraisers for this city shelter, and an ambassador to the American Humane Association.
Borghese recently joined forces with Karen Talbot to form Animal Aid of the United States. This not-for-profit is currently planning an epic adoption caravan and animal awareness event to take place in July of this year.
For more information, visit the Royal Pet Club website, or Email John Falkenberg.