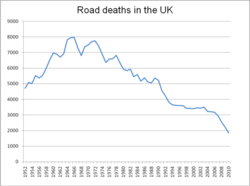 Road safety gets better by the year, and the technology of roads and cars improves all the time.
(PRWEB UK) 25 May 2012
To celebrate the Queen's Diamond Jubilee next weekend, the IAM (Institute of Advanced Motorists) looks back over how roads and road safety have changed since the Queen came to the throne sixty years ago.

Since 1952, over 313,000 people have died on UK roads*.
The good news is that the number of road victims is on the decrease. In 1952, 13 people a day died on our roads, compared to five a day now*. When you take increased vehicle numbers into account, roads are actually six times safer.
Today's roads would be beyond recognition to drivers in 1952. Vehicle numbers have steadily increased from four million to 34 million in the last 60 years.
The first motorway was introduced in 1958, with the current motorway speed limit of 70mph set in 1967.
Many important road safety laws have been brought in during the Queen's reign, including the MOT test, drink drive limit, and compulsory seatbelt and motorcycle helmet wearing.
The UK's leading road safety charity, the IAM, was set up in 1956. Since '56 more than 400,000 drivers and riders have passed the advanced test.
IAM chief executive Simon Best said: "Road safety gets better by the year, and the technology of roads and cars improves all the time.
"And I'm delighted to say that road safety still receives royal support, in the form of the IAM's patron, the Duke of Kent, and the Prince Michael International Road Safety Awards.
"Last year there were 1850 fatalities on our roads. All of them were preventable. Spending on road safety and roads must remain a priority, to keep the UK at the top of the world road safety league table."
Notes for editors:
1. *Department for Transport 'Reported road casualties Great Britain' 'Road fatalities over time' full table available on request.
2. The IAM is the UK's largest independent road safety charity, dedicated to improving standards and safety in driving, motorcycling and cycling. The commercial division of the IAM operates through its occupational driver training company IAM Drive & Survive. The IAM has more than 200 local volunteer groups and over 100,000 members in the UK and Ireland. It is best known for the advanced driving test and the advanced driving, motorcycling and cycling courses. Its policy and research division offers advice and expertise on road safety.
ENDS ALL
Media contacts:
IAM Press Office – 020 8996 9777
press.office (at) iam.org.uk
ISDN broadcast lines available
iam.org.uk