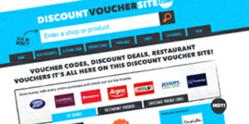 If you're looking to make an online purchase, why wouldn't you want to save money at no extra cost?
(PRWEB UK) 26 May 2012
Does it feel like the cost of basic essential items is increasing every day and yet the money in the pocket isn't? As if the rise in fuel costs and weekly shopping bills isn't enough to contend with, consumers now have the added dilemma of deciding whether they want their sausage roll warmed up (at a cost of course!). Everyone is continually bombarded with messages from the nanny brigade about the importance of healthy living and nutrition and yet the government don't seem to be doing anything to help the average person to be able to afford these every day necessities.
Since the start of the credit crisis, discount voucher sites have been popping up everywhere, offering the opportunity to save as much as 75% on your online purchase. Now a new site has arrived on the block that goes by the name of DiscountVoucherSite.com which is far better than most voucher sites currently available. It is owned and operated by Myriad Resources, an independent company looking to compete with more well known voucher sites and aims to help savvy bargain hunters find ideal discount offers for their purchase.
Discount Vouchers are an excellent way to save money and get a great deal on purchases, and guess what? They are completely free to use. Consumers have no obligation to use them or buy anything but the purpose of them are for you to save money on a purchase the person was already intending to buy. Darryn Lewis, founder of Discountvouchersite.com, says "If you're looking to make an online purchase, why wouldn't you want to save money at no extra cost? How long does it take you to make a simple search in Google or directly on your favourite site to find an offer?" He continues by saying, "It's not just saving a percentage off the purchase price, you could get a free delivery offer or simply be looking to take a friend or partner out for dinner and looking for a restaurant voucher to print off."
Lots of top brands are now using specialist sites like these, not only just to give you great offers but also as a self promotion tool. As increasing numbers of companies tail off from the high street, internet business can seem like a daunting way of competing in the ever growing retail market. Using voucher sites enable business's to promote their brands and deliver great promotional offers directly to the consumer.
It is important not to confuse daily deal sites with voucher or coupon sites. Daily deals are designed specifically to convince consumers that there is an urgency to purchase a deal on offer before it expires. This form of site only offers you what they have available and the person may end up buying something they weren't intending to buy but the hype makes them believe it's a deal not to be missed.
Top brands on Discountvouchersite.com offering great savings include Argos, Comet, Curry's, Mothercare, Boden, New Look, Boots and many more. The consumers don't need to be looking for a specific retailer as it is possible to simply search for vouchers by the item description such as LCD TVs, Hoovers, Shoes, Perfume, Glasses, Holidays and so on.
Whatever someone fancies or needs to save money, one can be sure that this discount voucher site will have the perfect voucher to use when shopping online, enabling to save those extra pennies to go towards the rising cost of everyday life.