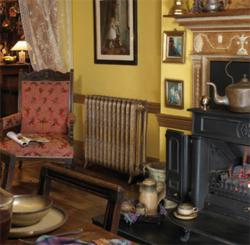 Paladin supplied some of our traditional cast iron radiators to this historic building, as well as others including Government House Nova Scotia
(PRWEB UK) 27 May 2012
Paladin Radiators, the Lincolnshire based cast iron radiator suppliers, are pleased to reiterate their continuous approval from the Royal Institute of British Architects. RIBA are an organisation that advocates better-quality buildings and communities through architecture. Working closely alongside the government, they provide the standards, training and support needed to improve the quality of public buildings and homes alike.
In addition to this, Paladin are also proud members of the Listed Property Owners Club. The primary purpose of this corporation is to keep listed home owners informed of their rights and responsibilities. They give accurate advice and genuine support on how to maintain a listed building. The management team at Paladin Radiators are extremely proud to be publicly backed and recommended, by this particular organisation.
Furthermore, the team at Paladin are extremely happy to announce that their traditional radiators have been carefully selected for a number of interesting projects, with the National Trust and English Heritage. The traditional and historic image provided by Paladin's range of cast iron radiators has made them first choice for these two huge organisations. Together they will be working closely on many renowned homes, both public and privately owned.
Helen Proctor MD for Paladin added "Perhaps the most recognised of the projects already worked on lies with Apsley House No.1 London, former house for the Duke of Wellington. This grade 1 listed building is currently run by English Heritage as a museum and art gallery. Paladin have supplied some of our traditional cast iron radiators to this historic building, as well as others including Government House Nova Scotia, we have even supplied Camden Estate Agents where one of our radiators was fitted in a red Double Decker bus that they take on tour".
Alongside this positive news, the team at Paladin are also pleased to announce their recent selection to work once more, on continuing projects, with Belton House and Fasque House. Belton House, located in Grantham, is a stunning grade 1 listed country house ran by the National Trust. Paladin's cast iron radiators have been installed for the recent restoration of the estate's chapel with grounds. Fasque House in Aberdeenshire was the family home of William Gladstone, prime minister to Queen Victoria from 1829 to the 1930s. Extensive restoration, including the addition of Paladin's traditional radiators, has now enabled this building to be open to the public.
Restoration work is a continuous process and Paladin will continue to work in other areas of these properties. The recent admiration and demand for their cast iron radiators is evidence of the authenticity of their product and the historical image. So much is the appeal; Paladin is now becoming a part of English heritage.
About Paladin Radiators
Established in Lincolnshire, England, Paladin Radiators is a family business that produces and supplies bespoke traditional radiator designs. As one of the UK's leading cast iron radiator manufacturers, Paladin can create historic radiator solutions for both retail and commercial groups.
Paladin's range or traditional cast iron radiators are the perfect addition to any restoration project and are a popular choice amongst renovation experts. The time-honoured image they represent can be manufactured for both period and new-build developments.