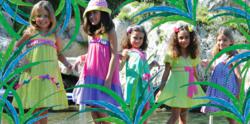 For summer 2012, we wanted a collection that could not get more colorful. The African theme fit just perfectly with our vision.
(PRWEB) May 29, 2012
Lola et Moi, the premium fashion kids wear brand, unveiled today a new and fresh collection embracing an African touch for your little ones' wardrobe.
The collection is now available in all lola et moi branches in over nine countries and online at lola et moi's online store. http://www.lolaetmoi.com
Capturing the spirit of Africa, the lola et moi summer 2012 collection is a fascinating combination of vivid colors that will most definitely add a positive vibe to a child's summer look.
A complete collection of dresses, tops, jumpsuits, outwear, bottoms, cardigans, swimsuits, hats, accessories and shoes, Lola et Moi has upped the game in trendy premium kids fashion.
High profile celebrities, Salma Hayek, Jessica Alba, Brooke Shields, Tom Cruise, Adam Sandler, have been spotted with their kids in Lola et Moi designs. http://www.lolaetmoi.com/press
Rania Tohme, co-founder and chief designer of lola et moi, said "For summer 2012, we wanted a collection that could not get more colorful. The African theme fit just perfectly with our vision". Rania emphasized that the online children's clothing store presents a very welcoming, organized and uncluttered website to facilitate shopping experience.
As access to the Internet grows, so grows online shopping. Despite the recession, the e-commerce market is enjoying double-digit growth. Forrester Research Inc. estimates that online shopping will increase by 15% to reach $59.5 billion the coming summer season. Online shopping has been a growing trend for mothers as they are facing busy, hectic days. They are the fastest growing demographic of online shoppers. Loved for its distinguished vibrant style, Lola et Moi is made for trendy and fashionable kids looking to stand out from the "déjà vu" crowd.
About Lola et Moi
Lola et Moi has been a pioneer in premium kids wear since 2003. Entering the world of Lola et Moi is getting back to the colorful, sparkling and candy-like world of childhood.
Designed for babies, girls, and boys' ages six months to twelve years, the Beirut based mid-high end line creates vibrant separates and accessories inspired by retro patterns and traditional silhouettes and updated with fresh, unusual fabrics and whimsical adornments. The result is a playful, yet sophisticated, look that is equally chic at school or at play from a California beach town to urban metropolis. The story started eight years ago in Lebanon after designer Rania Tohme gave birth to her twin daughters Rea and Lola who were her inspiration for the label. Her collections were first known in their owned boutiques in Lebanon, then the expansion began in the Middle East, Asia and other key international markets.