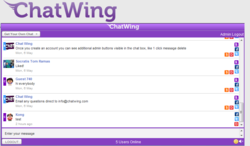 Portland, OR (PRWEB) May 25, 2012
There are many reasons why people are looking for new Yahoomail contacts. Based on the Internet, the most famous of these reasons is email database expansion. People expand their email database in order to send out messages to many clients at once. This is a common practice in lead generation. Recently, these people are using the Chatwing web chat app in order to find new contacts. Chatwing is a special communication tool that takes minimalistic web chat to a whole new level. This application has also been used in several online communities.
Chatwing may appear as a simple chat tool that anyone can see online, but many bloggers consider it as a "package of online surprises." This simply unique application specializes in providing entertaining website chat to everyone, and is also known for its versatility. A guest or visitor can bring up hundreds and thousands of topics in Chatwing. Social media integration is also one of Chatwing's key points. Now, people can log in with their Facebook or Twitter accounts. Through this, they can expand their social networks. The recent version of Chatwing can also hold up to 600 active chatters all at once. This simply proved that Chatwing operates on a very stable chat platform.
Bloggers who have used Chatwing during its early release have noticed that the online presence of their blogs soared by up to eighty percent. This is another reason why Yahoo Mail users have preferred Chatwing over other chatrooms. Plus, Chatwing can be installed easily in just few seconds. To install the widget in a blog, the user must register. After that, he can now proceed in customizing the chat tool. Customization doesn't take much time and the user will get the chance to modify the size, color, and name of the chat widget.
In its main website, Chatwing has an updated shout box that everyone can use. Through this, guests and visitors can post their questions and inquiries in real time. An admin is often assigned to answer their questions.
About Chatwing.com
Chatwing.com has developed live chat software for websites and blogs. It caters to different online communities due to its high rate of connectivity. Everyone can create a customizable live chat box in 1 minute or less. Users have the ability to customize the size, color, and fonts of the chat product. The ability to chat via social media accounts such as Facebook and Twitter enable Chatwing to offer a personal and unique real-time experience to all sites. Chatwing is 100% free and very easy to use.