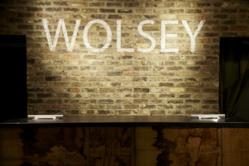 London UK (PRWEB UK) 25 May 2012
Democratic Heritage Brand Wolsey is pleased to announce this week their "1755th " customer to purchase through their new Brewer St Store in Soho London.
The brand, synonymous for clothing royalty and soldiers alike since 1755, was keen to keep tabs on this significant number, as a benchmark for a new era in the company's history.
"By way of an internal victory, we were keen to hit this figure as signifier of our ambition and commitment to growth," says Stephen Reeds Brand Director.
He continues, "We have a great team in the store and online who are pushing the boundaries to provide the best in service and experience that we possibly can, this is echoed through everything we do."
The store appears to have been an immediate hit with the locals, adding a touch of British Legacy in amongst the milieu of imported brands. Wolsey is focused on quality fabrics and a vintage urban style to which end the store offers an alternative that has been sorely missed.
For those yet to be inducted, the store, located in the super environmentally friendly Regent St quadrant, is awash with original fixtures and fittings which lend themselves perfectly to its archive of industrial progress and innovative approaches. This is also evident in the artwork of historical Wolsey marketing materials highlighting the evolution of the Brand into what is now, moving towards being a credible and genuine alternative to other labels out there.
With reported struggles on the high street, men's fashion within the upper tier has reportedly seen stronger performances than initial figures might indicate, so the mood at Wolsey is optimistic and with over 250 years' experience, who can blame them.