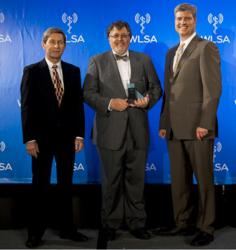 Triple Tree's recognition reinforces Telcare's belief that we have the capability to transform the lives of 28 million Americans with diabetes.
San Diego, CA (PRWEB) May 25, 2012
[San Diego, CA] Telcare has won the 2012 TripleTree iAward recognizing exceptional companies that demonstrate insight, innovation, and initiative with wireless solutions in the healthcare industry. The award was announced today at the 7th annual WLSA Wireless Health Convergence Summit held in San Diego.
Telcare's FDA-cleared device, introduced in February 2012, seamlessly communicates critical patient information to doctors, caregivers, and family members. Real time coaching and clinical feedback is returned to users right on the screen of the meter. Physicians can view the data from their desktop or electronic medical record, while family members have adopted Telcare's Diabetes Pal smartphone app as a means of tracking a loved one's progress. "We are thrilled that Telcare has been chosen for the iAward," said Telcare CEO Dr. Jonathan Javitt. "This recognition reinforces our belief that Telcare's blood glucose monitoring system has the capability to transform the lives of 28 million Americans with diabetes."
In April, Telcare's wireless enabled blood glucose monitoring system received the 2012 Gold Edison Award for the best new medical and science online tool and app.
Telcare's blood glucose monitoring system includes Diabetes Pal, currently the highest rated diabetes smartphone app. Diabetes Pal works seamlessly with the Telcare meter to enable family members of people with diabetes to view results in real time and to provide Telcare meter users a diabetes-focused social networking experience. Telcare has chosen to distribute Diabetes Pal at no charge via the Apple iTunes store (and soon via the Google app store) so that people may use it even without purchasing the Telcare system.
The TripleTree iAwards were created to recognize and reward exceptional companies that are demonstrating insight, innovation, and initiative in the healthcare industry. On an annual basis, nominated companies are judged based upon an evolving set of criteria with a focus on transformative solutions that are shaping the future of healthcare.
About Telcare
Telcare, Inc. uses cellular technology and social networking to bridge the last mile between patients with diabetes, their caregivers, and their families in order to transform the care of chronic illness. Telcare has been awarded First Place prizes in the categories of Health, Wellness and Fitness Application and Health Enterprise Solution by CTIA, been named the MEDTEC startup of the year, and been named one of the top 12 products of 2012 by the Edison Awards. In addition to directly reducing cost of care by improving outcomes and preventing complications, Telcare creates an ecosystem of care that enables people with diabetes to better care for their condition. For more information, visit http://www.telcare.com
About TripleTree
Founded in 1997, TripleTree is an independent, research-driven investment banking firm focused on mergers and acquisitions, financial restructuring, and principal investing advisory services for innovative, high-growth businesses and their investors in the healthcare industry.