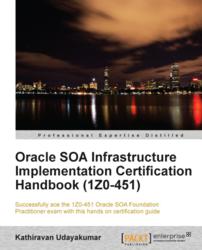 Successfully ace the 1Z0-451 Oracle SOA Foundation Practitioner exam with this hands on certification guide.
Birmingham, United Kingdom (PRWEB) May 28, 2012
Packt is pleased to announce the publication of the Oracle SOA Infrastructure Implementation Certification Handbook (1Z0-451), a new Oracle learning resource designed to help SOA architects, technical consultants and analysts successfully clear the 1Z0-451 Oracle SOA Foundation Practitioner exam. This certification handbook is available in print, eBook, Kindle and select library formats. The print book comes in at over 372 pages and is competitively priced at $53.99, whilst the e-book and Kindle versions are available for $30.59.
About the Author:
Kathiravan Udayakumar, a key member of the Fusion COE team of a highly reputed IT Consulting Organization has extensive experience in architecting and designing solutions using various Oracle Fusion and PeopleSoft Products. He has also trained close to 100+ Associates in Fusion Middleware 11g using Oracle SOA Suite 11g.
Oracle SOA Suite is a comprehensive, hot-pluggable software suite to build, deploy and manage Service-Oriented Architectures (SOA). With Oracle SOA Suite's hot-plugable components, organizations can easily extend, evolve their architectures instead of replacing existing investments.
Oracle SOA Infrastructure Implementation Certification Handbook (1Z0-451) focuses on the use of a relational data model and takes a deep dive into Technology Adapters while working with Mediator to integrate SCA components and external services. The book highlights topics such as identifying the SOA Suite 11g components, defining a SOA composite application and securing composite application using Security Policies and Web Services Manager.
Furthermore, a wide variety of well explained practice questions will help application developers strengthen and test their learning by solving practice papers modeled. Integrating Human Workflow with advanced BPEL concepts and understanding the various SOA Integration Points including B2B, BAM Service Bus, master the monitoring of Components Runtime execution are also explained in a concise manner using SOA Enterprise Manager Console.
What will the book do?
1. Introduction to Oracle Certifications.
2. Service-Oriented Architecture Concepts
3. SOA Composite Applications
4. Adapters
5. Orchestrating Services with BPEL
6. Advanced BPEL Concepts
7. Working with Mediator Components
8. Human Workflow
9. Oracle Business Rules Concepts
10. Secure services and Composite Applications
11. SOA 11g Integration Points
12. Monitoring and managing SOA 11g Deployment
13. Post Assessment Exam
Bonus Section - Developer Reference.
Style/Approach:
Each of the exam objectives will have relevant explanation, examples and reference for the reader to get complete understanding about the topic. Every chapter will have 10 review questions which will help the reader to understand the knowledge he/she acquired about the exam objective.
Packt Publishing has also released other Oracle SOA titles:
Oracle BPM Suite 11g Developer's cookbook (published)
Oracle BAM 11gR1 Handbook (published)
Oracle SOA Suite 11g R1 Developer's Guide (published)
All Oracle SOA books are Published by Packt Enterprise. Packt Enterprise is a publishing division of Packt Publishing designed to serve the information needs of IT Professionals in the Enterprise space. Packt Enterprise also publishes on Microsoft, IBM, Oracle, Citrix, Java, Amazon, Google and SAP technologies.