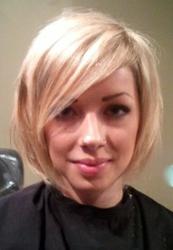 We are very excited to add make up to our line of services.
Fairfax, VA (PRWEB) May 25, 2012
Salon Khouri, a top rated Northern Virginia hair salon located in Fairfax, VA, has announced an it has added make up services to its menu.
"We are very excited to add make up to our line of services," states Jonathan Elkhouri, certified master stylist and owner of the Northern Virginia hair salon, Salon Khouri. "And we've done it just in time for prom and wedding season."
Salon Khouri offers a range of make-up services from touch-up make up, which is a light application after any hair service, to full bridal or special event make up. Salon Khouri hairstylist and certified make up artist Chris Brooke will be performing the services and has worked for fashion icons Pamela Roland out of New York and Sam Mintah with Ugglee. Prices for the newly added make up services start at $15 for the touch-up service to $95 for bridal make up. To view a complete list of make up services offered, please view the Salon Khouri menu of services.
For more information about any of Salon Khouri's products, services, or community efforts, call 703-273-7878, view the salon on the web at http://www.salonkhouri.com or visit 11725 Lee Highway in Fairfax, VA.
About Salon Khouri
Salon Khouri was founded in 2005 and is located in Fairfax, VA. The salon offers a full menu of hair services and is a top-rated salon in the Northern Virginia area. Owner Jonathan Elkhouri has trained with Nick Arrojo at his SoHo, NY studio and is a stylist to several Washington DC celebrities. Services include haircuts, colors, highlights, keratin treatments, extensions, and waxing.