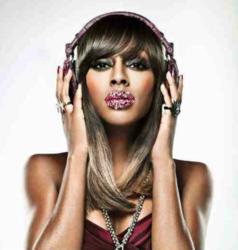 I put so much into what I want to do and I know Steve does too.
We literally eat, sleep and breathe our passions.
London, UK (PRWEB UK) 25 May 2012
Superstars founder Steve Hutson was joined by singer and X Factor winner Alexandra Burke on Colourful Radio's Life with Juicy Jaxx.
Over ten weeks, Steve is appearing on Jaxx's show to talk about some of the most important issues facing job hunters and offer his advice and experience to listeners who can call, text or email with their careers questions. In week six the topic was 'Entitlement' - convincing yourself that you are entitled to the job of your dreams and using that conviction to motivate yourself.
Alexandra and Steve have been close friends for years and the X Factor winner recalled how Steve had helped to motivate her when she was at a low point.
"When I was deciding whether to go back for the X Factor and my mum and brother were persuading me, I said to Steve, 'Shall I do this or not?' Steve sat me down with a cup of tea and biscuits in his house and said, 'You would be STUPID not to do this! WHAT have you got to lose?' which was inspiring! It is always good to have good people around you."
Alexandra won the X Factor in 2008 but had appeared on the show a few years earlier, dropping out when mentor Louis Walsh decided she was too young for the competition. Her family and friends were telling her that she was entitled to be on the show and that she should go for it. The real motivation, however, had to come from within.
"I put so much into what I want to do and I know Steve does too. We literally eat, sleep and breathe our passions. The difference is between somebody wanting to do something and somebody actually doing it and really focusing and being determined."
To Steve, Alexandra is something of an inspiration too - he admitted to Jaxx that his friend's X Factor win was one of the things that spurred him on to make the leap and start Superstars. The hard work she put into achieving her far-from-overnight success is the perfect illustration of the principle of entitlement.
"Feeling entitled is about believing in yourself and carrying on with your dreams and putting the skills in place to ensure that you can achieve them," Steve told Jaxx.
"When people say that Alexandra got where she is because of the show I always think that they never saw all the hard work she put in, every night - for free, sometimes, just to get her voice out there."
Superstars is based on a unique new staffing model that eliminates fees and margins forever. Clients work with Talent Managers to get the best staff for their needs and the Talent get amazing opportunities and the best support and mentoring in the industry.
Superstars' clients include BSkyB, Orange, Infosys and Radical Company with more being added all the time.
To find out more about Superstars' unique staffing model and how it can transform the way you hire staff, contact Steve Hutson - steve(at)homeofsuperstars(dot)com or visit http://www.homeofsuperstars.com
Alexandra Burke's new single, "Let It Go", is released on 27th May 2012, and her new album, "Heartbreak On Hold" is released on 4th June 2012. For more information, please visit: http://www.alexandraburkeofficial.com/gb/