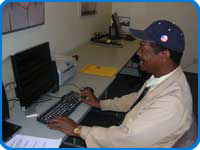 I would hope that the Presidential candidates will take our call allowing us to showcase how two disabled veterans are helping each other to communicate to the world.
Washington, DC (PRWEB) May 25, 2012
The Veterans Workshop is waiting for final approval from both the Obama campaign staff and from the Romney campaign staff that will allow blind veteran relay operators to call each presidential candidate on Memorial Day announcing a new relay service that has been designed for Deaf American Veterans.
"I am eager to talk to each candidate via a blind relay operator," said Allen Ford, deaf veteran from Rochester, NY.
"By calling the two top presidential political candidates we hope to showcase to America that while I may be deaf and my relay operator may be blind, we are not helpless," said Ford. This new "Veteran Relay Service" allows two distinctly disabled veterans to "pair up" and communicate.
The relay operator, 89-year old Emory Finefrock of Yukon Oklahoma was a Navy veteran in WWII and is Blind. "I am eager to showcase my skills to the country on Memorial Day, said Finefrock."
The Veterans Workshop, a national veterans charity has trained Finefrock and other Blind American veterans on how to operate as a relay operator to highlight to the country the dismal job opportunities that exist for Blind American Vetearns.
"The unemployment rate for those men and women who have given their site for our nation and those who have given their hearing during the war on terror is greater than at any time in our countries history," said Fred Taylor, spokesman for the Veterans Workshop.
Hopefully the American public will support a program that teaches Blind Veterans a new skill and allows then to once again work and participate in our society, said Taylor.
###