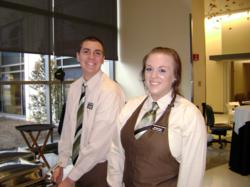 It was actually a pivotal moment for me because it helped me to decide whether I was interested in working in a hospital setting.
Williamsport, PA (PRWEB) May 25, 2012
Education and healthcare have always gone hand-in-hand, but a recent partnership between Susquehanna Health (SH) and Pennsylvania College of Technology focuses on education, high-quality hospitality and creative opportunity.
The vision cast by SH President and CEO Steven Johnson and Penn College President Dr. Davie Jane Gilmour was for both institutions to work together to utilize the talents and education of the ARAMARK at SH service partners and faculty and students of Penn College's School of Hospitality. What is developing is a growing relationship between the two organizations that is benefiting the local hospitality industry and the community. "I am excited about the progress and possibilities afforded to Susquehanna Health and Penn College as we work together to leverage the education, skills and talents of the individuals who work with and are educated within our organizations," said Johnson. "At Susquehanna Health, we value every opportunity to equip students who are considering healthcare as a future career goal."
A more concentrated collaborative effort began late in November 2011 with some shared events and relationship development opportunities such as SH service partner attendance at career fairs, serving as judges for student competitions and student-staffed, catered events at SH. A graduate of Penn College's Culinary Arts program, SH Customer Service Manager Mara Rakowski has been working with Penn College Dean of Hospitality Fred Becker to develop additional collaborative opportunities. "There is no question that we have a lot of common goals in terms of producing a quality product, developing human resources and helping produce quality, healthy food. We complement one another in terms of meeting those objectives," said Becker.
As a result of the partnership, SH Director of Hospitality Services Brian Marsh and Rakowski were invited to the college to speak to students enrolled in the Introduction to Hospitality class about the institutional hospitality industry and careers with ARAMARK at SH. In February, the two organizations partnered for five different events to celebrate the grand opening of the new Susquehanna Tower at Williamsport Regional Medical Center (WRMC). Students in the college's baking and pastry arts, table service and wine and beverage classes were involved in creating desserts, serving food and tending the beverage areas.
In addition to healthy food preparation for patients, staff and visitors by more traditional means, new retail café space in Susquehanna Tower has opened the doors to another facet of food preparation and enables SH to provide more onsite learning opportunities for students. In April, a lab for Penn College's Diet Therapy class was held in the new SH facilities. SH Executive Chef Michael Davis, Marsh, Rakowski and SH Clinical Nutrition Manager Julie Raup were on hand to provide tours of the kitchen and conference space along with information on food preparation for special diets. "For me, cultivating a culture of quality is very important," said Chef Davis. "Having students here who are in it because they want to be in it helps to achieve that. It's a win-win for everybody."
Established relationships between ARAMARK at SH Human Resource Manager Ellen Keegan and Penn College's Shelley Moore, assistant director of career services, and Dana Suter, coordinator of part-time student employment and career programming, have been successful in boosting SH's recruitment and Penn College's placement efforts. In slightly more than a year, 10 Penn College students have obtained jobs with ARAMARK at SH. Overall, three Penn College culinary arts graduates work on the management team and six graduates and five current students work in the kitchen at SH. According to Marsh, the fact that ARAMARK is a large corporation offers students the potential to be exposed to opportunities throughout the U.S. and in 21 countries.
More recently, two culinary arts students were selected for paid summer internship opportunities with ARAMARK at SH. "The objective of developing internships is really important to us," said Becker. "We don't have as many opportunities in the area compared to larger cities. Since we're seeing more students from this area, we're interested in developing more local internships that are paid but are also great experiences for our students." The curriculum requires each student to complete a summer internship for each year of the program. Limited local opportunities often force students to look outside the area to fulfill that coursework, according to Becker.
Penn College freshman Scott Neff, Avis, is one of two students who will complete an internship with ARAMARK at SH this summer. He and his classmates in the School of Hospitality's dining class were able to put their coursework into practice during one of the Susquehanna Tower events. "Overall, it was a really good experience," said Neff. "It was actually a pivotal moment for me because it helped me to decide whether I was interested in working in a hospital setting." Neff is looking forward to the experience he will gain through the summer internship opportunity. "I think it will help in learning self-discipline, managing time wisely and working efficiently," he said.
In the future, according to Rakowski, ARAMARK at SH hopes to establish a year-round internship program and is discussing the possibility of developing a teaching lab at WRMC to enable classes to be taught live on location. In time, the organizations are also looking into the possibility of expanding the relationship into other areas, according to Keegan.
Although this partnership is a win-win for the organizations, there are fringe benefits to customers of both facilities. "The community supports us and the health system as well," explained Becker. "I think that this relationship, in many ways, is a way of giving back to the community by working together to do a better job and to raise the level of quality of product and service that we provide both through our academic programs and through the operations at the hospital. We make ourselves better by working together."
About Susquehanna Health
Susquehanna Health is a three-hospital integrated health system including Divine Providence Hospital, Muncy Valley Hospital and Williamsport Regional Medical Center located in northcentral Pennsylvania. Serving patients from an 11-county region, Susquehanna Health is a healthcare leader and has been recognized at the national and state levels for quality of care. Susquehanna Health offers a wide array of services that include cancer treatment, heart and vascular care/heart surgery, neurosciences including neurosurgery, orthopedics, urology, OB/GYN, gastrointestinal services, behavioral health, physical rehabilitation, home care, long term care, assisted living and paramedic/ambulance services.