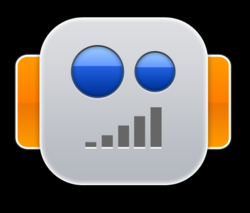 "The community of Smithville, Texas has lost more soldiers for its size than any other during the recent fight for freedom,"
Smithville, Texas (PRWEB) May 28, 2012
appsbar.com has recognized "Veterans Park as the appsbar App of the Day, and while the only thing Digi has ever served is warm beer, he salutes all the men and women of the Armed forces who have ever put on a uniform or made the Ultimate Sacrifice.
"The community of Smithville, Texas has lost more soldiers for its size than any other during the recent fight for freedom," according to the volunteers in this town who are fundraising to build a park in their honor.
As one of the first app builders to use appsbar.com's iPhone and Android app builder, this app was made as an "application used for providing information about the Smithville, Texas Veteran's Memorial Park and Annual Memorial Weekend Fundraiser."
According to the project's website The city of Smithville and its Mayor Mark Bunte are working on the unique park project for the city that will combine a children's water recreation area and a memorial space and monument to honor the fallen heroes of Bastrop County. Patti Patton Bader, founder of Soldier's Angels, a non-profit organization that supports tens of thousands of American military personnel across the globe with care packages from home, developed the concept for the park after a conversation about the fallen heroes from Smithville and the Bastrop County area.
The concept for a children's area as part of the memorial came from families of the fallen who expressed the desire to have youthful energy and joy as part of a tribute to soldiers who fell in the fight for freedom.
You can click here to be part of the memorial through your donations and support:
Where the app can be downloaded for free:
Google Play
Why Digi likes it:
Today is Memorial Day. App builders for charities and non-profits have found appsbar a free and easy way to engage with the public. This app uses calendars, photos and videos to reach a worldwide audience. Made with appsbar, this app was free to make using appsbar's iPhone app builder, Windows app builder or Android app builder, and even better, it's free to download.
How anyone can make an app:
Simply join the community with an email address and get started on an app. Digi, our loveable robot app coach, is there to help at each step.
About appsbar:
appsbar.com was launched in 2011 to fill the gap between over-simplified apps and costly, professionally-produced apps. appsbar.com apps each average 500 to 1,000 downloads within the first day of being published. In 2012, appsbar became the leading developer of Android apps with more than 10,000 published. appsbar was developed by Appsbar Inc., a company founded by Scott Hirsch. appsbar has grown to a community of everyday app developers and opened the way for businesses and people to engage with friends and brands online through the development of customizable digital tools. For company contact information and partnership opportunities, visit http://www.appsbar.com
For More information:
Joe McGurk
PR(at)appsbar(dot)com