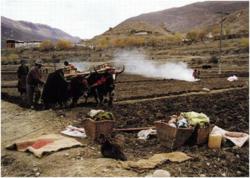 (PRWEB) May 26, 2012
Explore Tibet, a Lhasa-based Tibet tour agency, announced a day trip to Namba Village. "Namba is a traditional Tibetan farming community," Explore Tibet said. "Travelers to the village can meet with local farmers and see the riverside mills where tsampa is processed. The area is also a great place for horseback riding and Kailash tour."
Namba Village is located in the Drowolong valley, about 30 kilometers from Lhasa. The people of Namba are farmers, and live in the traditional style. They grow barley and wheat, live in small groups of houses, and use dzo, a bull-yak hybrid to sow and thresh crops.
The barley grown by the villagers is ground and roasted to make tsampa, the staple food of the Tibetan diet. A typical Tibetan meal includes a bowl of tsampa mixed with cheese or milk from a female yak, called a dri. The milk is also made into butter, which is mixed with tea to make butter tea, the most popular Tibetan drink.
From the village travelers can set out by horseback or on foot through the valley. During the summer nomads pass through the area with the herds, pitching their distinctive black yak-hair tents. Nomads often carry goods to the farming communities for trade.
"For travelers interested in Tibetan life outside the monastic communities, this is a great day trip," Explore Tibet said. "This is a real community of farmers growing crops in the traditional manner."
Explore Tibet is a Tibetan-run Tibet travel agency focused on responsible tourism and sustainable practice.