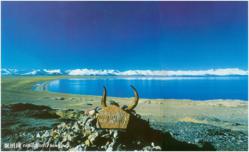 (PRWEB) May 27, 2012
Explore Tibet, a Lhasa-based Tibet travel agency, announced a day trip to the nomadic northern plateau, with a stop at holy Namtso Lake (4,700 meters in altitude).
"North of Lhasa travelers can see the drokpa, Tibetan nomads who lead a traditional lifestyle," Explore Tibet said. "The harsh environment of the plateau fosters a unique way-of-life. To understand Tibetan culture travelers should learn from the nomads."
The high-altitude Changtang, the largest plateau in the world, has very little life. Summers are short with frequent thunderstorms and unpredictable weather. The plateau holds the Changtang Nature Reserve, the second-largest nature reserve in the world.
The nomads of the Changtang, also called changpa, or northerners, move their herds in a fixed migration pattern. These nomads have permanent winter settlements, the time when they slaughter the meat and take their goods to market to trade. During the summer they make milk and butter and travel with their herds. Visitors can see their black yak-hair tents dotting the landscape.
The life of the nomads has changed very little in thousands of years. Many changpa are also traders, since the nomads must barter for much of the things they need because of the scarcity of the plateau environment.
Namtso Lake is located 240 kilometers north of Lhasa and it's the second largest salt water lake in China. The lake is 70 kilometers in length, and pilgrims spend up to a month to circumambulate it.
Explore Tibet is a Tibetan-run travel agency focused on responsible tourism, Tibet permit and sustainable practice