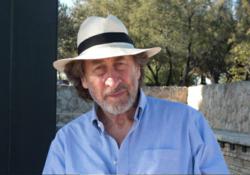 I have always attached the highest value to an education in the humanities and to the study of literature in particular.
London, UK (PRWEB UK) 29 May 2012
New College of the Humanities (NCH) announces today (Tuesday 29 May) that Howard Jacobson has joined the College as Visiting Professor. Best known for his 2010 Man Booker winning novel The Finkler Question, he will lecture and meet students informally at NCH to discuss literature and writing.
Jacobson lectured for three years at the University of Sydney before returning to England to teach at Selwyn College, Cambridge. He is an Honorary Fellow of Downing College, Cambridge, having read English there under F R Leavis.
He lists Samuel Johnson, Jane Austen and Dickens among his foremost inspirations, and has written variously about comedy, Australia, Jewishness and love.
Howard Jacobson said: "I have always attached the highest value to an education in the humanities and to the study of literature in particular. 'Adventure is not outside man,' George Eliot said, 'it is within.' I am honoured and excited to be part of the great inner adventure which New College of the Humanities promises to stimulate."
Professor AC Grayling, Master of New College of the Humanities, said: "I am delighted that Howard has agreed to be a Visiting Professor at the College. The students will benefit both from his experience of teaching and his success as a writer."
Howard Jacobson's novels Kalooki Nights (2006) and Who's Sorry Now (2002) were both long-listed for the Man Booker Prize, and The Mighty Walzer (1999) won the Bollinger Everyman Wodehouse Prize. Meanwhile, his non-fiction work includes Whatever It Is, I Don't Like It (2011), a collection of the weekly columns he writes for The Independent. His new novel, Zoo Time, will be published in September.
Ends
For further information, please contact:
Thea Warren or Alex Bevis at Four Colman Getty
T: 0870 626 9000 / out of hours: 07736 278697
alex(dot)bevis(at)fourcolmangetty(dot)com / thea(dot)warren(at)fourcolmangetty(dot)com
Notes to Editors
New College of the Humanities (NCH) offers a new model of higher education for the humanities in the UK. NCH students will have one of the best staff-student ratios in UK higher education and will benefit from a high number of contact hours as well as engaging and challenging weekly one-to-one tutorials.
Our Professors are international experts in their fields and our full time academic staff members have been selected for their passion and proven ability for teaching in addition to their research interests.
NCH will welcome its first intake of students in September 2012 and will prepare students for undergraduate degrees in: Economics BSc, English BA, History BA, Law LLB and Philosophy BA. In addition to their degree, all NCH students will also study towards the NCH Diploma, covering four modules from one of the other degree subjects or Politics as a contextual course, plus core modules in Applied Ethics, Logic & Critical Thinking and Science Literacy as well as a Professional Skills course.
The College is centrally located in Bloomsbury, London's university district, and students will have access to many of the resources of the University of London: the exceptional library in Senate House, the University of London Union, sports facilities, and many other opportunities to enrich themselves through extra-curricular activity.
At maturity, NCH will make offers of full Scholarships, or generous Exhibitions worth 60% of the fees, to almost 30% of applicants.
Scholarships are means-tested and cover the full cost of tuition over a three year degree. These are awarded on academic merit, and students applying for these places will need excellent academic potential.
Exhibitions are based solely on academic excellence and the potential for a student to excel during their time at NCH. All students applying to NCH are automatically assessed for an Exhibition. Exhibition students pay £7,200 per year, a fee lower than that charged by many UK institutions.
The applications process is independent of UCAS and applications can be made in addition to the five UCAS choices. Visit http://www.NCHum.org for all enquiries and applications. The deadline for applications to be considered for the next tranche of Scholarships and Exhibitions is Sunday 27th May 2012.
https://www.facebook.com/NewCollegeH
http://twitter.com/NewCollegeH