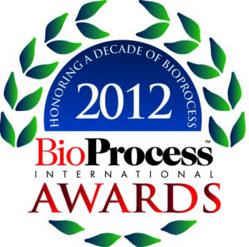 New York, NY (PRWEB) May 29, 2012
BioProcess International (BPI), a business-to-business publication dedicated to delivering cutting-edge information focused on the development and manufacture of biopharmaceuticals and therapeutics, announces an agreement with GE Healthcare Life Sciences to become the exclusive sponsor of the Downstream Processing Pillar of the 2012 BioProcess International Awards – Honoring a Decade of BioProcess.
The 2012 BioProcess International Awards recognize the outstanding products, services, partnerships and people that have had the greatest positive impact on each of the "three pillars" of bioprocessing.
"The Awards program honors the ideas and innovations that changed how this remarkable industry develops and delivers treatments and cures," said Brian Caine, BioProcess International's Founder and Publisher "GE Healthcare Life Sciences' strategic leadership and dedication over this past decade ensured that treatments reached patients in the most timely, cost effective manner. We are thrilled that GE Healthcare Life Sciences has partnered with BioProcess International to become the exclusive sponsor of the 2012 Downstream Processing Pillar."
"GE Healthcare Life Sciences is proud of the role we have played as an innovator and supplier of bioprocessing technology," said Jonathan Royce, GE Healthcare Life Sciences' BioProcess Marketing Program Leader. "We are delighted to have this opportunity to recognize the achievements of those who have inspired the industry to overcome challenges and break through bottlenecks over the past decade."
Four awards will be granted in each of the three pillars of bioprocessing (Upstream Processing, Downstream Processing and Manufacturing):

Technology of the Decade (supplier-based)
Technical Application of the Decade (end-user based)
Collaboration of the Decade
Thought Leader of the Decade
Suggested nomination technologies:
Upstream Processing: fermentation, cell culture, single-use, production platforms, expression systems, outsourcing, validation
Downstream Processing: separation, purification, filtration, stability, virus removal
Manufacturing: formulation, fill, finish, outsourcing, facility design, logistics, global distribution, international production
The 2012 BioProcess International Awards Dinner and Ceremony, a special, invitation-only event, taking place on October 9, 2012 at the 2012 BioProcess International Conference and Exhibition in Providence RI, will recognize the top three finalists and announce the winners for each individual award.
About GE Healthcare Life Sciences
GE Healthcare Life Sciences provides products and expertise for developers and manufacturers of biotherapeutics to enable efficient, flexible and cost-effective approaches to characterization, expression and purification of biomolecules. The company offers tools and support to take recombinant proteins, monoclonal antibodies, plasma proteins, oligonucleotides and vaccines from research, through process development, to full-scale manufacturing. To find out more about all of our products and services, please visit http://www.gelifesciences.com/bioprocess
About BioProcess International
BioProcess International (BPI) is part of the T&F Informa BioScience Group, the leading provider of scientific, technological, and business information to the global life science community. Visit BPI online at http://www.bioprocessintl.com
To submit a nomination or request sponsorship information, please visit http://www.bioprocessintl.com/awards