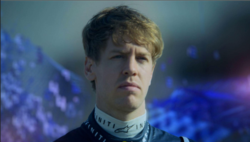 (PRWEB UK) 25 May 2012
Red Bull Racing's coolest competitor - racing at the most glamorous grand prix on the calendar around the streets of Monaco - is leading the Japanese sporting premium brand's new global campaign focusing on the newly updated FX.
Infiniti is using the new promotional line of 'Performance isn't black and white.. it's purple' to highlight the sporting brand's different approach to the car market.
The idea behind the new advertising message is to focus more closely on human emotion as seen through the eyes of current Formula 1 champion Sebastian Vettel, says Infiniti, showing that performance is not simply about numbers and statistics.
Jean-Pierre Diernaz, Infiniti Marketing and Communication Director for Europe, Middle East and Africa, says: "Infiniti has a strong point of view on what is performance and how it should be delivered. Using the best pilot in the world Sebastian Vettel to illustrate this shows how serious we are in our ambitions to develop the brand."
The creative platform was developed by TBWA\G1 in Paris and will be shown in Europe with a 60 second TV commercial supported by poster, digital and social media platforms.
Supporting the TV campaign will also be a unique poster campaign containing 20 works of art from five different global artists who were briefed to find an innovative way of representing things such as 4 Wheel Active Steering, V8 Power, Sport Brakes, and Continuous Damping Control - as you might expect from a performance brand such as Infiniti.
Each image, one for each F1 race, will convey the same overall message about how Infiniti sees performance….not black and white but purple and will appear after each round of the Formula 1 world championship.
Watch out for some colourful campaigning - especially by Sebastian Vettel around the streets of Monaco.
The Monaco Grand Prix - the most glamorous on the grand prix calendar - takes place this weekend on 27 May.
If you want to see how the Infiniti FX compares with rivals, log into the business car reviews and make sure you keep up to date with every lap of the market in our business car news pages.
Contact: businesscarmanager.co.uk