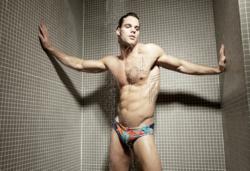 Gregg Homme always strives to ensure men feel and look their best.
(PRWEB UK) 29 May 2012
The latest designs from Canadian brand Gregg Homme are now arriving at Deadgoodundies men's underwear and swimwear website.
Gregg Homme has been one of DGU's top brands since it launched on the site in 2008. The collection has won fans the world over with a racy range of boxer briefs, briefs, tangas, thongs, jockstraps and men's swimwear, all expressing Gregg Homme's commitment to quality, innovation and fashion.
The fabulous Voyeur range was among the first to arrive this season and the designs are proving popular, all in Gregg Homme's favourite black, purple, red and white shades. All underwear in the range uses a liquid touch, hyperstretch microfibre which hugs the body in one skin skimming layer.
The top DGU brand really knows how to use microfibre to great effect and the Mood range offers designs that are simply stylish for every day but with a soft and slinky fabric for a little bit of luxury. In classic black or white, there are even coordinating Mood tops to create an irresistible combination.
New from Gregg Homme men's swimwear are the bright fronds of the exotic Tropics designs and with a short, brief or thong available there is something for everyone. Gregg Homme's Retro Swim Brief mimics the colour choices in the best selling underwear collections so is sure to be a hit with men hoping to colour coordinate their drawers this summer!
Gregg Homme always strives to ensure men feel and look their best so has once again expanded the popular enhancing underwear collection. The Perfek Bum Square Cut style and Brief use an innovative outer elastic string back to create definition and help achieve the perfect derrière. Styles in the Booster range use a 'pop out' pouch to cradle and accentuate men's assets.
Die hard fans of the collection will be pleased to see colour updates on two of the most popular ranges. Boy Toy styles are now available in purple and white and the Torrid Thong has added an incredible six new options including Lime, Pink Lemonade, Silver Ice and Strawberry.
As always, Gregg Homme has included a number of seriously hot new men's underwear designs for the new season. Those wishing to indulge their darker side should check out the Master brief, armbands and chains, and the intricate Hot Shot Brazilian Brief.
The collection is once again modelled by Thierry Pepin. Thierry also stars in this season's Gregg Homme collection video, as naughty as ever this time around with a guilty pleasure theme.
Company Information
Deadgoodundies is an online only retailer stocking the best in designer men's underwear and swimwear from all over the world including, in alphabetical order, Big Boys, Body Art, Bruno Banani, Bum-Chums, Clever Moda, Doreanse, Ergowear, Gigo, Gregg Homme, HOM, James Tudor, Jockey, Joe Snyder, MaleBasics, MANstore, Mey Bodywear, Mundo Unico, Nils Bohner, Obviously For Men, Olaf Benz, Pikante, PUMA, Sloggi, Solar TanThru and Zoggs. DGU also stock selected loungewear, socks, T-shirts and more from their top brands.
DGU are incredibly media friendly and always have high res images on hand for fashion pages, samples for photoshoots and expert comment and insight from partners Adam and Jane.
For more information contact Jane or Charlotte at DGU PR on 01743 271615 or email pr(at)deadgoodundies(dot)com.