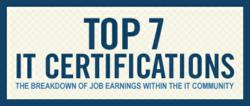 We are incredibly excited to offer IT professionals a clear picture of how they can improve their earning potential!
Baltimore, MD (PRWEB) May 29, 2012
IT Training institution, Phoenix TS has been growing fast. The two-time winner of the EC-Council Circle of Excellence Award has created a new infographic featuring the top 7 IT certifications by earnings.
Following an expansion to Alexandria, VA and the creation of a new curriculum on cyber security, the Columbia, MD based technical computer training center seeks to provide prospective students with the information they need to pursue a successful IT career.
The new infographic breaks down the top 7 IT certifications into these three factors:

The advantages of earning your certification according to a survey of IT professionals about salary, job security, and job satisfaction
The average salary for new and experienced holders of each certification title
The average salary of each job title within each certification
The new infographic will help prospective and seasoned IT professionals identify which positions and certifications will lead to the highest income.
"We are incredibly excited to offer IT professionals a clear picture of how they can improve their earning potential," says Ben Tchoubineh, CEO and co-founder of Phoenix TS. "With this new infographic, the path to a rewarding and stable career becomes more obvious."
Who's the highest earner? Information Technology Directors, with average earnings of $157,197 a year.
If you would like to add the infographic to your website visit http://www.phoenixts.com/it-infographic and copy the embed code at the bottom of the page.
About Phoenix TS
Operating since 1998, Phoenix TS is a woman-owned management, information technology, and cyber security training institute. Phoenix TS's hands on approach helps students transfer what they learn in the classroom to the exam room and workplace.
Students seeking specialized or foundational certification training will find effective strategies to stay knowledgeable and proficient in their field with the help of Phoenix TS's certification training.
Established in Columbia, MD, with a recent expansion in Alexandria, VA, Phoenix TS has helped over 80,000 professionals in private corporations and government agencies receive the IT certifications and training required to progress their careers.