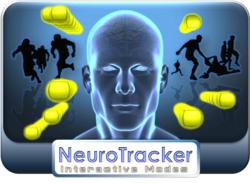 Challenging athletes' mental abilities under increasing pressure.
(PRWEB) May 29, 2012
NeuroTracker trains awareness and decision-making for athletes and the military. Players in the NFL and NHL, as well as US special forces train these abilities by tracking multiple targets in a virtual reality environment. With the addition of interactive training modes, they will now have the chance to challenge their cognitive abilities under increasing pressure as they are forced to react as well as track.
NeuroTracker uses virtual reality technology to activate, measure and train mental skills crucial to on-field performance: reading the game, tracking opponent movements and making the right decisions. This training has already been recognized as effective for elite performance, being used by professional leagues in North America and Europe, US elite special forces and NCAA programs across the nation. It was even used at the NFL Scouting Combine this year, indicating a recognition that the skills it trains are a fundamental part of reaching the top levels of athletic performance.
"NeuroTracker is an important training device," says Chris Ruf of the Baylor University football program, adding that it is part of "an 'arms race' to provide our athletes with the latest and greatest training available."
There is a new wave of technologies that are becoming increasingly mainstream. NeuroTracker has taken advantage of these developments and has incorporated advanced motion capture technology into its training. This now involves patented Interactive Modes such as intercepting a virtual ball or avoiding up to 60 simulated collisions in a single training session. Challenging athletes' mental abilities under increasing pressure expands the limits of what they can pay attention to on the field.
These developments are part of the evolution of the recently patented NeuroTracker Learning System. The fundamental training improves awareness and decision-making, and the system is designed to zone-in on specific needs to optimize stimulation and maximize performance.
"Maintaining attention under pressure is fundamental to the military, athletes and the general population," says CogniSens Chief Science Officer Dr. Faubert, "NeuroTracker maximizes concentration, minimizes attention lapses and prevents potentially catastrophic decision-making errors."
CogniSens Athletics
A Canadian company that develops, in partnership with the University of Montreal, cutting-edge training technology for boosting mental performance in sports and rehabilitation. See website below for further information on their main product: