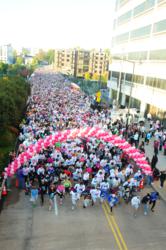 Knoxville, Tenn. (PRWEB) May 29, 2012
Registration for the Komen Knoxville Race for the Cure will begin on June 1. The 16th annual event will be held on Saturday, October 27, 2012 at World's Fair Park in downtown Knoxville.
Last year, more than 13,000 area residents participated as runners, walkers and volunteers. The event raised more than $845,000, which supported research, screening, education and treatment support. This year, Komen Knoxville hopes to raise $900,000 and have at least 13,500 participants.
To register online, sign up as an individual or with a team. All registration fees include the official Komen Race for the Cure T-shirt and race bib. In addition, breast cancer survivors will receive a pink survivor T-shirt, hat and race bib along with the race T-shirt.
Volunteers also play a large role in the Komen Knoxville Race for the Cure with their hard work, passion and commitment. Volunteer registration also opens online June 1.
For more information and to sign up for the 2012 Komen Knoxville Race for the Cure beginning June 1 visit http://www.komenknoxville.org/.
About Susan G. Komen Knoxville Affiliate
Renee Repka participated in races around the country to help support her mother who was struggling with breast cancer. Shortly after her mother passed away, Renee took charge with a group of friends to bring Race for the Cure to Knoxville. The first race was held on September 27, 1997 at World's Fair Park with a 5k run for women only and a one mile co-ed fun run/walk. After two successful races, the volunteer group became the Knoxville Affiliate of Susan G. Komen Breast Cancer Foundation as an incorporated 501c3 nonprofit. Today, the Knoxville Affiliate serves 16 counties in Tennessee: Anderson, Blount, Campbell, Claiborne, Cocke, Grainger, Hamblen, Jefferson, Knox, Loudon, Monroe, Morgan, Roane, Sevier, Scott and Union.
###