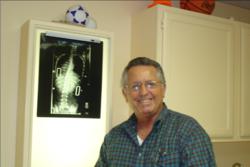 With Prescott's Orthotics and Prosthetics the possibilities are endless.
San Antonio, TX (PRWEB) May 25, 2012
Originally operating out of San Antonio in 1970, Prescott's Orthotics and Prosthetics extended into New Braunfels, Fredericksburg and Laredo when Gary Prescott took over for his father and CPO, the late Harold Prescott. With a wider client base, Prescott emphasizes a need for even more ingenuity and understanding to find optimal fittings for each individual patient. Because of his compassion for his clients, Prescott has accumulated an impressive set of awards and recognitions in the field of prosthetic and orthotic care.
Perhaps a main variable fueling Gary Prescott's success is his consistent aspirations to carry on his father's legacy. After attending Churchill High School, he attended Northwestern University for its Prosthetic and Orthotic program. He came back to run the family business and has been the sole owner since his mid twenties. While extending the clinic's reach further into the state, Prescott also began contributing to local charities.
One case in particular shaped Prescott's mindset as to how patient-tailored he felt his work should be. A blind patient was in need of a prosthesis that he could maneuver without assistance. Prescott fashioned an artificial limb that was light enough to attach and detach on his own when necessary. That patient epitomized Prescott's mantra of consideration and caring for people when they needed it most.
As he continued his work with various medical organizations, Prescott's mindset garnered attention from various recognition groups. He was recognized by "Any Baby Can," and the Mexican Consulate General awarded Prescott the "Grateful Appreciation Award." Also among his more prestigious accomplishments, Prescott won a merit award from the Rotary Club of San Antonio and was recognized by the South Texas Physicians Outreach, for donating a shipment of prosthetic and orthotic devices for indigent patients.
In the business of mending physical tragedy, provider compassion for patients stands as a consideration worth formal praise. Gary Prescott emphasizes that anyone needing prosthetic assistance has a welcome invitation to his clinic, where he intends to improve quality of life in a personalized way. The clinic stands behind its assertion, "With Prescott's Orthotics and Prosthetics the possibilities are endless."
About the company:
Harold Prescott, CPO, founded Prescott's Orthotics and Prosthetics in San Antonio in 1970. He was a pioneer in the profession and was the first President of the Texas Association of Orthotists and Prosthetists. His untimely and unexpected death in 1976 left the business in the hands of his son, Gary Prescott. Since, Prescott's Orthotics and Prosthetics has opened three additional facilities throughout Texas and a satellite office in San Antonio. Because of Gary's intuitive business sense and genuine concern for the needs of his patients, Prescott's has grown and proudly services the communities deep in the heart of Texas. For more information visit their website at http://www.prescottsop.com.