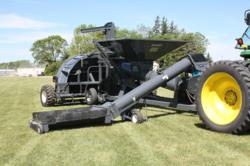 The Loftness GBL12 features a 20-inch auger for filling grain bags at a rate of 30,000 bushels per hour.
Hector, MN (PRWEB) May 25, 2012
Loftness introduces the new GBL12 grain bag loader to its line of GrainLogix™ storage systems. With a 12-foot-diameter bag capacity, the GBL12 is capable of filling the largest grain bags available on the market.
The GBL12 features a 20-inch auger for filling bags at a rate of 30,000 bushels per hour. Its rugged, one-piece tunnel promotes high-speed filling by distributing the grain evenly. The oversized, top-loading hopper and optional truck-unloading swing hopper easily accommodate loading from almost any grain cart or trailer.
Bag positioning is made simple with the GBL12. The 12-volt electric jib, crane and trolley system is controlled via remote control for easily lifting heavy 12-foot bags into place. The cradle, bag pan, loading tarp and retention system further ease set-up and significantly reduce the potential for failure. The adjustable axle uses a pin system for quickly and consistently maintaining proper height.
During the loading process, the operator has maximum control. A rotary hand wheel allows precise adjustment of the 15-inch-diameter disc brakes, and a gauge displays the exact brake pressure. Additionally, the SureGrip™ deep-treaded tires prevent slippage.
For safe and legal transporting, the GBL12 is equipped with properly rated tires and axles with electric brakes. The optional truck-unloading auger also comes with a lift and storage system for transport purposes.
Every aspect of the GBL12 has been rigorously field-tested and refined to maximize durability and meet the heavy-duty demands of 12-foot bagging operations. Additionally, industry-standard, off-the-shelf parts have been used throughout the unit's design, allowing many operators to conduct their own repairs in the field.
The GBL12 requires a tractor hydraulic system with a minimum rating of 6 gpm and 2,000 psi. It also requires 120 PTO horsepower and 1,000 RPM. A variety of drive shaft spline options are available to accommodate multiple PTO output shaft profiles.
Loftness manufactures the GrainLogix line of grain-bagging equipment, the CropLogix line of crop shredders and the VMLogix line of vegetation management equipment. For more information on Loftness' complete product line, contact Loftness Specialized Equipment, P.O. Box 337, Hector, MN 55342, call 800-828-7624 (U.S. and Canada) or 320-848-6266 (international), email info(at)loftness(dot)com, or visit http://www.grainlogix.com.