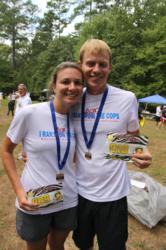 When we lose an officer – a family loses a husband, a wife, a sister or brother... a child loses a father or a mother.
McDonough, GA (PRWEB) May 31, 2012
The 2nd Annual Race for the Fallen Half Marathon to benefit the Police Benevolent Foundation will be held on Saturday, September 15th, 2012 at Red Top Mountain State Park. Each year, more than 140 officers leave for work and do not return home to the families who love and support them. The reasons vary – they may be involved in an auto accident; they may be killed in an incident with a criminal; they may have performed a routine traffic stop to ticket a speeder; or they may have responded to a domestic dispute that took a deadly turn. Regardless of the reason, the harsh reality is that the men and women of our local police departments who have chosen to accept the honor of protecting our communities often face deadly consequences that leave their families in dire straits. When we lose a member of the police force, we lose an experienced, trained community hero who gave his or her life to protect the community. When we lose an officer – a family loses a husband, a wife, a sister or brother... a child loses a father or a mother.
The Police Benevolent Foundation, Inc. exists to help the law enforcement officers and their families restore normalcy after a tragedy. The Race for the Fallen Half Marathon was created to honor the brave men and women who risk their lives every day to protect our families, and it is a tribute to the officers who gave their lives to protect our community.
Strength. Endurance. Dedication.– words that describe our officers; elements to complete this race.
Registration Fee: $60 before June 1st, $65 before September 15th, and $75 on race day.
You may also register on-site the day of the race at 6:30 AM. However, the registration fee will be increased the day of the race.
T-Shirts: Event t-Shirts are included with your registration. Participants can pick up shirts during check-in beginning at 6:30 AM on race day. Additional shirts will be available for purchase during the event.
Race Information: The Race for the Fallen will begin at 8:00 AM. The starting point will be near the Iron Hill trail. Check-in and late registration will begin at 6:30 AM the morning of the race. Parking will be available throughout the park and race vicinity. Additional parking information will be posted at a later date.
Timing System: Runners will be timed using the MYLAPS BibTag disposal chip system.
The race is managed by the Police Benevolent Foundation, Inc and the PBA of Georgia, Inc.
You may register and submit your payment online:
Register Here: http://raceforthefallen.com
Registration fees may also be mailed in with your registration form (payable to):
PBF/Marathon
2155 Highway 42 South
McDonough, GA 30252
Visit our Facebook: https://www.facebook.com/raceforthefallen
Awards: First three males overall; First three females overall; First three finishers by age groups (both sexes):14 & under, 15-19, 20-24, 25-29, 30-34, 35-39, 40-44, 45-49, 50-54, 55-59, 60- 64, 65-69, 70-98, and 99 and over. Awards will also be given to the first three law enforcement officers to finish –male and female.
The Police Benevolent Foundation, Inc. is a tax-deductible 501(c)(3) organization established by the Southern States Police Benevolent Association, Inc. (SSPBA) in 2005. Established in 1987, SSPBA has been serving its membership for 20 years. SSPBA is not a union. It is an independent association with no national or international affiliations. The Foundation has a Board of Directors elected by the membership of the SSPBA. Foundation expenses are currently absorbed by Southern States PBA, making the Foundation one of very few such entities that give 100% of the funds received to its intended purpose.