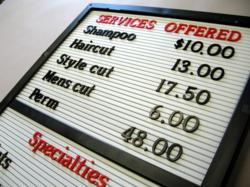 The convenient size can be positioned almost anywhere making the sign very usable for price lists or promotional messages.
Gap, PA (PRWEB) May 25, 2012
Alphabet Signs knows just how important on-site advertising and customer information is to the small-business owner. The company's new 14W x 20H Price Sign Board is an answer to the frequent requests for clearly visible signage that can convey product prices, schedules or promotional messages. As with all its products, Alphabet Signs only brings customer products to market that are high in quality and useful in purpose.
The new price sign board is large enough to be clearly visible from a store window, a store-aisle endcap or any other equally convenient location.Daniel Keane, president of Alphabet Signs said, "The convenient size can be positioned almost anywhere making the sign very usable." Divided into two sections, the sign can function as a double message center.
Retailers will find that posting on this new price sign board is a simple but efficient way to notify customers of important price or scheduling changes. Beauty and nail salons, deli and concession stands, automotive and small-engine repair shops will also find practical uses for this signage. Larger retailers may want to include sign boards in their storefront windows to advertise special events or mounted near the door to designate hours of operation.
Mr Keane also suggested, "If a retailer notices customers asking the same questions they can post it on the message center as a helpful assistant." Short lists of sales prices, discounts, special rates, updated prices and new products will be readily available to browsing customers. Even restaurant menu changes, farm market produce specials or hand-crafted items and prices can be posted and easily changed out as often as necessary.
Alphabet Signs offers a 1-year manufacturer's guarantee with this price sign board. The durable white message board is divided into ¼-inch grooves and constructed of 1/2 -inch smooth, hard, white thermoformed plastic vinyl. Cleanup is as easy as a quick washing with soap and water. The matte, black frame completes the professional look with its ¾-inch wide face trim and smooth, rounded corners. Four pre-drilled holes, screws and suction cups are included for simplified mounting. The back of the sign is also covered to provide a finished look from any angle.
In addition to the sign board, two sets of red and black lettering, totaling 840 characters, are included in this offer. Both upper and lower-case lettering, numbers and punctuation are included. Frequently used consonants and extra vowels form the majority of the selection. The Benquit Medium font creates an easy-to-read contemporary style, and the black-on-white or red-on-white contrast creates a clear and distinct contrast. These letters will also work interchangeably on any other standard-size letter board.
Alphabet Signs has been in the signage business for more than two decades. It backs up years of experience and satisfied customers with courteous, trained professionals who are always available to assist both online and by telephone.
About Alphabet Signs
Alphabet Signs provides fast turnaround, expert service and great prices on over 3,000 items in 50+ categories. Their quality signs have been hand picked by sign experts. Alphabet Signs has been in business over 20 years.