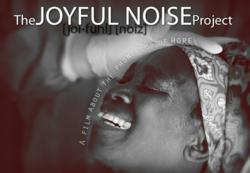 . . . she has a unique way of focusing on celebration and uplifting messages.
Abilene, TX (PRWEB) May 29, 2012
Zambia Mission Fund (ZMF) announced today that Jessalyn Claire Studios has agreed produce The Joyful Noise Project: a Film About the Phonetics of Hope for the benefit of the mission. The project will culminate in a film that will premiere September 29th at the historic Paramount Theatre in Abilene, Texas. Proceeds from the premiere will benefit Zambia Mission Fund. Jessalyn Claire Studios is using the social networking site KickStarter.com to raise funds to produce the film and is still seeking donors to help make the film a reality. Several thousand dollars are needed to produce the film which will, in turn, be used as the centerpiece of ZMF's 2012 fund raising efforts. Kickstarter.com allows art patrons to combine efforts to support meaningful projects.
The Joyful Noise Project: a Film About the Phonetics of Hope is a creative documentary portraying, through the lives of several Zambians, the different ways people use their physical and metaphorical voices. The project will be filmed in the rural area surrounding Namwianga Zonal Health Centre (NZHC) near Kalomo, Zambia. According to Jessalyn Massingill, owner of Jessalyn Claire Studios, "The film will examine the lives of a handful of Zambian people who represent a much larger community of people who are greatly affected by the clinic."
The film will be unique in several ways. First of all it is a solo project, secondly it attempts to depict actual events through a creative and intimate look that feels more like a portrait than a documentation. Like a portrait, each life will express the characteristics and features of each situation without grasping them as a complete whole. Each portrait will not only shed light to the specific situation, but exemplify the impact each branch of the mission has had, and will have, on thousands of lives.
"My goal as a filmmaker," says Massingill, "is to express, not explicitly the suffering that exists, but the hope that is already in place. I want to steal your heart, not with statistics or images of suffering that guilt you into helping, but with artful images that draw you intimately close to the needs of the people as those needs are being met so that as they are being given cause to celebrate- you are also given cause to celebrate. I want to make the joy personal."
One story Massingill hopes to portray is the experience of a pregnant Zambian woman who will give birth at the Women's Shelter at Namwianga Zonal Health Centre. Rural Zambian women often have to face the fear of giving birth alone, a fear founded in the fact that many women who are unable to make it to a clinic die during childbirth. The NZHC Women's Shelter gives these women a place to live during the days leading up to the birth and the rare opportunity to give birth in the safety of a hospital environment. The survival rate of these women is exponentially greater than those who are forced to give birth in the bush. Another prospective story will create a portrait of the life of a Zambian with cerebral palsy and express through creative filmmaking and story telling the many difficulties that are in place for Zambians with disabilities.
"Last year Jessalyn produced the film Nawona: The Way You See" according to ZMF Board Vice President, Klay Bartee of Searcy Arkansas "and allowed us to use it in our fund-raising efforts. It was a great success partly because she has a unique way of focusing on celebration and uplifting messages. She has agreed to raise the support needed to get the new film produced, and we are exceedingly grateful."
Zambia Christian College Inc., dba Zambia Mission Fund operates several mission efforts in Zambia including George Benson Christian College, secondary schools, primary schools, Namwianga Zonal Health Centre, Namwianga Christian Radio, The Haven and Eric's House orphanages, medical missions and various other ministries. Dr. KB Massingill is President of the Board for the organization, and is President of Win Win Windows in Abilene, Texas. Dr. Richard Prather is Executive Director and owns and operates Ellis County Animal Hospital.