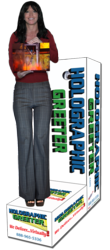 The new 360° HD image technology takes the Holographic Greeter's impact and turns it up to 10!
Charlotte, NC (PRWEB) May 29, 2012
The Holographic Greeter is an exciting information, branding and promotional messaging medium which displays a holographic image projected onto a life-sized cut-out that is so unique and lifelike, Passersby can't help but stop and stare. Once they stop, the Holographic Greeter captivates them through an array of features ranging from its ability to interact with life-like realism to the incorporation of it's frameless screen in screen video capabilities, AromaFusion™ Scent Technology, or interactivity through Advanced QR Codes and immersed interaction with the new Dual TouchScreen Interactive Kiosk.
The Holographic Greeter's exclusive 360° HD Image Technology™ creates a dynamic range of view that is unrestricted, bright, crisp and visible from a full 360°… the widest viewing field available. Projected 3D HD image capability creates the illusion of depth, clarity and brilliance unsurpassed in the industry. Combine this enhanced image technology with the "made for Retail" all-in-one Holographic Greeter unit and Holographic Greeter becomes the most significant in-store retail marketing vehicle available today.
When it comes to Retail Sales, the Holographic Greeter is "hands down" unmatched. The patented Counter Display Module allows Retailers to bring actual products into the presentation! The Counter Display Module is a wraparound gondola/shelf unit perfect for new item introductions, a secondary location, seasonal specials and demos. The Counter Display Unit modularly docks with the Holographic Greeter creating a product selling unit that is unmatched in it's ability to bring the consumer to the point of purchase. Applications are perfect for endcaps and freestanding displays while the entire system is built on concealed caster wheels making setup and repositioning a snap!
When it comes to delivering the message, the Holographic Greeter gets that done like no other medium. The Holographic Greeter can be positioned virtually anywhere and is a high-tech communications platform that serves up information and personal greetings in a decidedly unique fashion. Because the Holographic Greeter is so animated and compelling, Advertisers can deliver their message or introduce new products to a receptive audience without intimidation. Retailers, Museums, Hotels, Attractions, Mass Transit, Schools, Hospitals, Trade Expos, Doctors, Offices, etc. are finding this a must have for engaging the Customer and meeting their marketing objectives.
Whether using the Greeter for Retail Sales or simply trying to stand out in the crowd of saturated advertising messages in today's Retail environment, the Holographic Greeter delivers the message. The Holographic Greeter encourages Advertisers to incorporate their Brand portfolio with the Greeter's iPad PowerPoint presentation, stream video of existing or new Brand creative with it's frameless screen in screen capabilities and captivate the crowd with the Dual Touch Screen Interactive Kiosk. This system can provide promotional discounts, registrations, exit polls, surveys or even dispense coupons.
The Holographic Greeter's success revolves around the Universal Master Design Concept™, allowing the Holographic Greeter to offer the most affordable Cost in Market. Designing around a Master Silhouette allows for seamless updating of videos and doesn't require complete retooling of the platform so keeping creative fresh is quick and easy. With their lease program, upfront costs are extremely low and updating content with additional videos is so affordable Advertisers will be tempted to change their marketing creative daily!"
The Holographic Greeter is the only patented system on the market designed exclusively for the constraints and rigors of Retail. All Steel construction features a compact 15" x 40" footprint (27" x 40" with the Counter Display Module) and will fit in the tightest Retail environment while the overall height of 5 feet 6 inches allows the message to make a big impact! With features like Stand designs featuring the Advertisers Brand equity, customized AromaFusion™ sent delivery system, Speaking Glass™, Counter Display Module™, wireless updating, Video-in-Video capabilities and interaction using QR Codes and/or the Dual TouchScreen Interactive Kiosk concept, the Holographic Greeter is sure to be unmatched in its ability to deliver.
Amanda Bridges, Business Development Manager at Marketing Ad Group says "the new 360° HD image technology takes the Holographic Greeter's impact and turns it up to 10! You can't touch the marketing impact we deliver for 10 times the price!"
Marketing Ad Group offers the Greeters with an incredibly attractive lease program or for direct purchase or even through their Co-Op Program which offers participating Retailers an opportunity to turn this captivating promotional and branding concept into a revenue producing vehicle for their Business while also benefiting from the increased exposure and sales lift provided by this captivating device.
For more information, contact Amanda Bridges at 888-965-5336, or visit http://www.holographicgreeter.com.