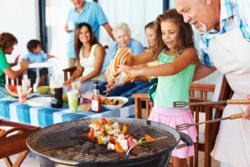 (PRWEB) May 27, 2012
Memorial Day: A time to reflect, remember and honor the more than one million men and women who have given their lives in the service of their country. This was the original objective of what has become known as Memorial Day, which was originally marked on May 30th. The Uniform Holidays Bill, passed in 1968, moved the date to the last Monday in May in order to create a three day weekend. Certain Veteran's groups have claimed that this has diminished the meaning of the day and that Memorial Day is now more about barbeques and the start of summer. A Tellwut online survey asked how people were planning to spend this weekend in 2012:

22 percent will celebrate at home
13 percent plan to go on a trip or to the cottage/cabin or beach
12 percent will take the opportunity to sleep
11 percent have no change in plans
6 percent will party and drink beer
6 percent will participate in home town celebrations
5 percent will give thanks to those fallen in war
5 percent will visit the grave yard to visit a loved one
One member hopes to have their son home who is retiring after 22 years in the US air force.
Tellwut wishes all a safe and happy Memorial Day weekend!
Tellwut is an online survey company providing free paid surveys and opinion polls to the United States and Canada. This best online survey site offers online users a unique combination of survey software and a rewards program, coupled with a social network element that will facilitate dialogue, argument and conversation across an infinite number of subjects whilst earning rewards points that can be redeemed for a variety of products. Tellwut has a business application which allows companies, researchers, students to send their own private surveys or canvass the tellwut voter base. Free survey trial packages are available. For more information about tellwut Email: support(at)tellwut(dot)com