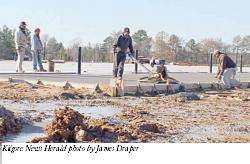 "Everything just came together. The property offered was exactly what we needed." he said. "We wanted to stay in Kilgore and going with KEDC helped me make up my mind."
Kilgore, Texas (PRWEB) May 29, 2012
For the last three years, Key Energy Services' Kilgore division has brought new life to non-producing oil and gas wells in Northeast Texas. With the construction of their new building in the Texas Hwy. 31 Industrial Park property just south of Interstate 20, they can kick-start growth there as well.
"We're the bell goat," said Mark Bass, area manager of Key's Fishing and Rental Services division. "The (developers) were very anxious for us to put this building on this particular piece of property. With us here, it opens up land so they can put in a street and a cul-de-sac behind us, and make even more industrial park property available."
According to developer Thomas Merritt, they currently have 75 acres committed to Phase I of the industrial park, with plans for a second addition as this one fills up.
Location was essential when Key realized they needed more space. "Being on Hwy. 31 was an important part of it," Bass said. "It's an oil corridor. We have oil field traffic up and down this road. We have industry on Hwy. 135 (to the west) and on Hwy. 42 (to the east). This puts us in the center of the hub of the Kilgore industrial oilfield market."
"One of the critical things in our business is to be in close proximity to all of our support services," said Bill Linn, Senior Director of Key's US Fishing Services department. "From hotshot truckers to supply houses; there's an infrastructure that supports us."
And they support them back. By providing services as "well mechanics" and rental suppliers for many workover rigs in their 200-mile radius, their staff of 26 "touch 250 wells a month," Linn said. He estimates there are roughly 50,000 either once-producing or still-producing wells in their service area.
Kilgore is one of the top five long-term proven marketplaces for oil field service companies in the U.S. By helping Key maintain their home base here, the Kilgore Economic Development Corporation expects Key to contribute $3.6 million to the city over the next ten years. In exchange for a $250,000 stimulus by KEDC, Key agrees to maintain at least 20 employees for now, with an additional 15 new jobs created over the next three years. Key also agreed to invest nearly $5 million.
Because of the large volume of trailer-mounted equipment the company uses, and the fact they come and go around the clock, seven days a week, the 10-acre site in the open park was a good fit. Merritt hopes other energy companies find this to be the case as well.
According to Thomas, the Merritts, including Thomas' father and former state representative, Tommy, and Thomas' uncle, A.P., have been developing commercial land since the 1980s. This particular piece of property is an answer to a growing need in the area.
"Once we get the road in and get good access, I think it will take off," he said. "What really helps us is that we can build to suit. The quality of our work is also a plus. We're handling the construction and building to these companies' needs. But its still our building and, as the landlords, we want to use the highest quality and build it to last."
Another substantial benefit of the park is its location in a Tax Increment Reinvestment Zone. "That has really helped us get going, because it makes it worthwhile for someone to come in and do a development like this," Merritt said. "Without help from TIRZ, we would have lost money trying to put the street in. This way, using dollars that can be recouped later really helps get it kicked off the ground and opens up lots that will create a broader tax base for Kilgore in the future."
Bass just knows it was a good fit at a time when they had busted through their seams.
"Everything just came together. The property offered was exactly what we needed." he said. "We wanted to stay in Kilgore and going with KEDC helped me make up my mind."
About Kilgore EDC: Economic Development Agency funded by a one-half cent sales tax approved by voters in 1990. Governed by a five-member board of directors and managed by a staff of four, Kilgore EDC has won awards internationally for excellence in economic development.