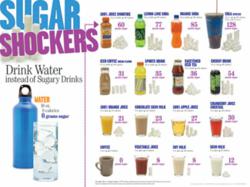 Owatonna, MN (PRWEB) May 29, 2012
USDA National Strategic Partner, Learning ZoneXpress has unveiled a new educational poster promoting the latest MyPlate nutrition theme. The poster includes the message, "Drink water instead of sugary drinks," the USDA's focus from May through August, along with a photographic reminder of just how much sugar a variety of popular beverages contain. The 18" x 24" 'Sugar Shockers' laminated poster is available on LearningZoneXpress.com for $14.95. An informational, 50-page tablet is also being developed and will be available for $9.95.
The new poster represents the third theme in a series of seven key nutrition messages the USDA is rolling out through 2013. Learning ZoneXpress kicked off the series at the end of 2011 with a poster dedicated to the first theme: "Make half your plate fruits and vegetables." In January, a second poster was created for the next theme: "Enjoy your food, just eat less." As a new theme is announced every four months through 2013, Learning ZoneXpress will introduce a new poster highlighting that theme.
"We are excited about our partnership with the USDA," says Melanie Nelson, founder and CEO of Learning ZoneXpress, the leading producer of health and nutrition education materials in the U.S. "The seven nutrition themes are simple, yet effective, pieces of advice. So many of us don't realize just how much sugar we consume by beverages. It's an important reminder for all of us at any age, and our 'Sugar Shockers' poster captures that message in a memorable, visual format."
These healthy-eating tools are perfect for the classroom, cafeteria, medical office and more. In addition to the USDA nutrition themes, Learning ZoneXpress also offers dozens of popular educational products. Topics include MyPlate, physical activity, life skills, school foodservice, and more. Products range from $4.95 - $499.95 and are available at LearningZoneXpress.com.
About Learning ZoneXpress
Learning ZoneXpress, based in Owatonna, Minn., is a leading source of "edu-taining" and award-winning teaching tools. Its mission is to help improve the health and vitality of children by providing relevant, creative and affordable learning tools about life skills, healthy behaviors and nutrition. Learning ZoneXpress offers a wide variety of learning aids and affordable education DVDs, posters, games, lesson plans, and PowerPoint presentations.
For more information about Learning ZoneXpress products, visit http://www.learningzonexpress.com or call Toni Gnasdoskey at 888-455-7003.