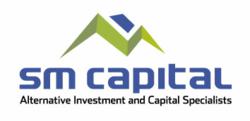 Iowa City, Iowa (PRWEB) May 29, 2012
RETRACTION – The press release distributed May 21st announcing a strategic partnership between SM Capital and Crestmark HAS BEEN RETRACTED. There is no strategic partnership in place. For specific information or details, contact information is provided below.
About SM Capital
SM Capital applies nearly 50 years of front-line experience investing in small business. We have "been there, done that" by starting-up, operating and raising money for our own ventures as well as numerous other businesses throughout the world. It is through this experience that SM Capital vets and facilitates opportunities for investors and business owners alike. SM Capital provides resources to facilitate both debt and equity for qualified businesses as well as fixed income and capital appreciation for investors.
For more information, please contact SM Capital, Inc., at (319)-339-0220 or visit http://www.smcapitalfunds.com.
About Crestmark
Crestmark is a nationally recognized provider of innovative financial solutions for small- to medium-sized businesses. Financing solutions include asset-based lending, accounts receivable financing, lines of credit and factoring. Crestmark finances most business-to-business companies, and has extensive experience in many industries including transportation, manufacturing, staffing, government contractors, apparel and furniture manufacturing. Headquartered in Michigan, with offices in Florida, Louisiana, Tennessee, New York, Alabama, California, Georgia, Illinois, Ohio, Missouri, North Carolina, and Texas.
For more information, please contact Crestmark at (888)-999-8050 or visit http://www.crestmark.com.
About Business Strategy Group
Business Strategy Group (BSG) delivers strategic advisory services, interim and long-term management services, and capital sourcing to small and medium emerging growth companies. BSG's combination of seasoned advice, hands-on execution and capital sourcing empowers our Client Partners to accelerate their growth while ensuring effective control and management of financial, sales, marketing, operations and technology resources. BSG's capital sourcing programs match equity from institutional and individual investors to our emerging growth Client Partners; our own BSG Equity Fund also makes targeted investments in select Client Partners. In addition to equity solutions, we maintain an active network of partners which provides a comprehensive portfolio of alternative funding options, including debt financing, lines of credit, and working capital solutions.
With headquarters in Boston and offices in Chicago and northern Virginia, BSG develops new Client Partners by leveraging relationships from our existing Client Partners and from our network of BSG Members, which help to identify small and medium growth companies that require our unique combination of executive, operations, and technology advisory services and capital sourcing.
For more information about BSG's unique approach to delivering advisory and capital solutions to small and medium emerging growth companies, please visit us at http://www.bizstrategygroup.com or send an email to inquiries@bizstrategygroup.com.
Media Contact
Greg Crosby
The NextGen Marketing Group™
greg.crosby(at)nextgenmktg(dot)com
+1 (319) 621-2424