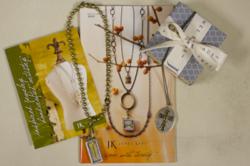 "...we're thrilled to be a part of this year's MTV red carpet events, gifting to celebrities who inspire fans worldwide," said Janet Kinkade, JK Founder, President & Designer
ALPINE, UT (PRWEB) May 29, 2012
This year, MTV Movie Awards 2012 celebrities will be charmed with Jewel Kade's handcrafted charms and inspired jewelry. For the first time, Jewel Kade will be joining other top-tier sponsors in gifting at the Secret Room Events MTV Movie Awards Red Carpet Style Lounge on May 31, 2012, in Beverly Hills, Calif., which hosts celebrities such as: Brittney Spears, Paris Hilton, Zac Efron, Jessica Alba and more.
Included in the celebrity gift bags will be stand-out Jewel Kade pieces designed by Janet Kinkade, founder of the Alpine, Utah-based jewelry company known for its handcrafted charms (all made in the USA) and artistic jewelry:

Wish for You Charm and 18" Large Ball Chain in Antique Brass – JK wishes love and luck to America's favorite celebrities with this handcrafted charm featuring a 24k-gold plated heart under beveled glass, paired with a casual-chic Large Ball Chain in Antique Brass.
Cross Necklace – This medallion piece, featuring a vintage antique brass and pewter charm, makes it easy to keep the faith in all that is good in life…and fashion.
"When I launched Jewel Kade just a few years ago, I had no idea my designs would resonate with so many people," said Janet Kinkade, Jewel Kade Founder, President & Designer. "There's something about our handcrafted charms (all made by our Production Artists in Alpine, Utah) and our soulful, meaningful jewelry that has inspired Jewel Kade fans across the country. Now we're thrilled to be a part of this year's MTV red carpet events, gifting to celebrities who inspire fans worldwide."
ABOUT JEWEL KADE
Handcrafted charms. Inspiring jewelry. Intriguing accessories. Available through JK Stylists nationwide, Jewel Kade is a fresh take on timeless fashion. Founded by Designer Janet Kinkade, Jewel Kade's charms are all handcrafted in JK's Production Studios in Alpine, Utah. Jewel Kade has garnered national attention – appearing on ABC News, The Today Show, The Ellen Degeneres Show, and American Idol. (Citing media references does not imply endorsement of Jewel Kade products in any way by media, related production companies or related spokespersons/personalities.) As part of JK's charitable efforts, Janet Kinkade has created the JK Cares Collection. For every JK Cares piece purchased, 5% of the proceeds goes directly to help in the fight against diseases that affect millions of women nationwide: breast cancer (Huntsman Cancer Institute) and heart disease (American Heart Association). For more information on Jewel Kade's inspiring story and soulful jewelry, visit http://www.jewelkade.com.