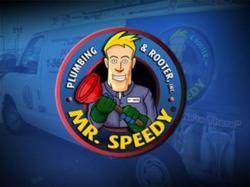 I've always been a dog lover so it was a no brainer to support the new Saslow dog park anyway we could
Los Angeles, CA (PRWEB) May 29, 2012
Mr. Speedy Plumbing in Los Angeles, a premier plumbing service company, received the City of Los Angeles Appreciation award for their donation to the Saslow Dog Park. Mr. Speedy donated about $2000 worth of labor to install a dog water fountain so furry friends who play in the park will never get dehydrated.
"I've always been a dog lover so it was a no brainer to support the new Saslow dog park anyway we could," said CEO of Mr. Speedy Plumbing, Fred Marzouk. "We wanted to help the community and show we are a company that not only takes but also gives."
The dog fountain is a special fountain made specifically for dogs. It's just big enough for about 3 dogs to drink from at the same time and was an integral part of the vision the community had for the Saslow Dog Park project.
"It felt really good to do all we could for the community to make this project come to light," Marzouk said. "We had no idea we were going to get the certificate so it was a nice to also be recognized by the city of Los Angeles."
Mr. Speedy plumbing donated all of the materials needed to install the water fountain in addition to the labor to dig and install the new pipe line. Mr. Speedy specializes in pipe line installations and repairs, so they were the perfect fit to get the job done right.
Dog lovers can now enjoy the Saslow dog park located at the corner of 4th and Molino in L.A.
About Mr. Speedy:
Mr. Speedy Plumbing Inc. is a family owned and operated plumbing company dedicated to perfection of service and outstanding customer service. Being a family operated business, Mr. Speedy Plumbing is able to provide customers with the best plumbers in Los Angeles and customer service available in the plumbing industry. Mr. Speedy Plumbing has more than 20 years experience in plumbing services that include copper repiping, drain cleaning, gas lines, leak detection, clogged sink, fixture installation, sewer repairs and much more. For more information visit; http://www.MrSpeedyPlumbing.com or call (866)354-9916.