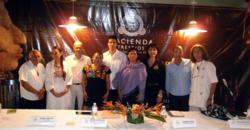 Cancún, Quintana Roo (PRWEB) May 26, 2012
Sunset World invites you to rediscover the cultures of eras past. Attend the Second Mayan-Tibetan Bicultural Encounter at the environmentally-conscious luxury resort, Hacienda Tres Ríos in the Riviera Maya this September 11-16 and celebrate the Mayan and Tibetan cultures.
A renowned group of researchers, scholars and experts will explore the 2012 Mayan prophecies, touching on the art and culture of these ancient civilizations.
Among the important figures who have confirmed their presence are: Dr. Antonio Karam, Founder and President of Casa Tibet México; Nicolás Núñez Alavarez, Professor and Director of the ethnographic theater group, TIT/UNAM; Marte Trejo Sandoval, astronomer and researcher; and Alberto Ruz Buenfil, historian of the movement of international communities, activist and founder of the ecovillage, Huehuecoyotl.
Other experts include: Miguel Covarrubias Reyna, an archeologist from the UADY (Autonomous University of the Yucatan); Dalia Rosa Trejo, UNAM (National Autonomous University of Mexico) sociologist and Mayan humanist; Ildelfonso Aké Cocom, H'men priest from the Association of Mayan Priests of the Yucatan, Kuck Kaab Yéetel J-Men Maayaób; and Alejandra López Llera, Professor of pre-Hispanic dance and the traditional mystic arts of Tibet.
Activities will begin Wednesday, September 12 with a welcome ceremony at Hacienda Tres Ríos. The Cultural Encounter program spans five days, with 17 different activities related to both cultures, including conferences and individual and group activities.
Participants can experience the mysticism and the rituals of Mayan cultures through cleansings and healings performed by Mayan priests from the Yucatan Peninsula, as well as the purification ceremonies of the temazcal, the cenote and with fire. Meanwhile, the Tibetan monks will create a white mandala, perform pujas (Tibetan blessings), and hold a meditation session for spiritual wellness.
In addition to the activities at Hacienda Tres Ríos, an artistic and cultural presentation with the best of both civilizations will be held at the Teatro de Cancún on Thursday, September 13.
As a way of bringing cultural tourism to this corner of the Caribbean, Sunset World is promoting attractive, all-inclusive vacation packages to encourage both Mexican and international visitors to enjoy this incredible event.