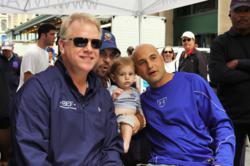 The Occupy Adorama Street Fair is a great way for families to enjoy a day together, kick off the summer season and participate in a variety of interactive games and activities while helping to raise money for CF.
New York, NY (PRWEB) May 29, 2012
Adorama, New York's neighborhood camera retail outlet, will host its second annual Festival of Technology and Family Fun Street Fair called "Occupy Adorama" to benefit the Boomer Esiason Foundation to fight Cystic Fibrosis on Sunday, June 10 from 10:00 a.m. – 4:00 p.m. The Street Fair will take place on West 18th Street between 5th and 6th Avenue and attendance is free, with all donations going directly to help cure cystic fibrosis!
Last year's festival attracted more than 10,000 attendees and with even more rides, games, food, and technology vendors confirmed, this year's festival is expected to be even bigger, and great fun for the entire family. The Street Fair is a great way for families to enjoy a day together, kick of the summer season and participate in a variety of interactive games and activities, including free photography clinics in Adorama's outdoor Learning Center Tent. For Street Fair attendees, Adorama will be offering discounts on the newest products from Canon, Sony, Samsung, Panasonic, Lexar, Pentax, Dell, SanDisk, and many more.
In addition, attendees can have their photo taken with Boomer Esiason and Craig Carton from WFAN's "Boomer & Carton" radio program, as well as a number of past and present New York Giants football players who will also be enjoying the day's festivities. Whether you're a huge New York sports fan, or simply looking to spend some quality time with the family, Adorama's Festival of Technology and Family Fun Street Fair is the place to be on Sunday, June 10.
Festival Highlights Include:

Carnival Games and Petting Zoo – A host of carnival games and a live petting zoo will be great fun for kids, and kids-at-heart throughout the day
Food, Food, Food – An amazing variety of food choices. It just wouldn't be a Street Fair without it
Prizes and Raffles – Dozens of raffle items and prizes will be given away all day long
Vendor Exhibits – Test drive the latest digital imaging technology from some of the biggest brands in photography
Celebrity Appearances – Come meet and have a picture taken with football great and TV/radio personality Boomer Esiason, WFAN morning show co-host Craig Carton, and a number of past and present players from the New York Football Giants
Adorama Technology Learning Center – Learn how to take better photos and videos from some of the best photographers in the world inside Adorama's outdoor Technology Learning Center. Learn to shoot like a pro
Get a Technology Makeover with Special Product Pricing from Adorama – Bring old camera gear and upgrade to the latest digital technology. Special pricing and trade-ins for one day only.
About Adorama
As one of the nation's largest photo retail and mail order suppliers, Adorama has served professional and amateur photographers for 33 years. It has recently expanded its service to the community through online photo education and on-site workshops, programs that make it a unique industry resource. Adorama's vast product offerings now encompass home entertainment, mobile computing, and professional audio, while its services include an in-house photo lab (AdoramaPix) and pro equipment rental (Adorama Rental Company). Visit Adorama at http://www.adorama.com.
About the Boomer Esiason Foundation
The Boomer Esiason Foundation's staff is comprised of individuals with expertise in cystic fibrosis and program development, event planning and fundraising, marketing and communications, and management. The Board of Directors includes leaders in the business community who generously give of their time and resources in support of BEF's critical mission. These dedicated people may come from all walks for life, but they all agree on one thing: they'll do whatever it takes to beat cystic fibrosis. http://www.esiason.org