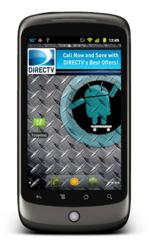 Tooyoou - Your Phone, Your Choice, Your Money
New York, NY (PRWEB) May 29, 2012
In an effort to achieve balanced app user and advertiser growth, home screen mobile advertising platform Tooyoou just released its affiliate and reward points program and it deviates greatly from similar existing programs. Tooyoou's affiliate program does not require affiliates to own any online property, embed html code on their website or blog, nor does it require affiliates to be an Android smart phone user.
For the first time in the mobile app world, anyone can sign up as a Tooyoou Affiliate and refer the Tooyoou app to their friends, family, co-workers who have Android phones and tablets, and earn 10% of all ad revenue (USD) that Tooyoou generates from these new users. The 10% revenue sharing continues as long as the referrals continue using Tooyoou. New app users must simply sign up to the Tooyoou app mentioning the referee's affiliate code.
Tooyoou affiliates who leverage their social network and real world connections to get businesses to advertise on Tooyoou mentioning their affiliate code can earn up to 30% of all money advertisers spend on Tooyoou's mobile advertising platform, advertising their products and services.
For more information, please visit Tooyoou Affiliate FAQ and download the Tooyoou Affiliate Know How.
Tooyoou is a free Android app and pay-per-click home screen mobile advertising platform on Android that allows Android smart phone users in the USA to opt-in to location and choice sensitive display advertising on their home screens in exchange for real dollars and points earned over time. Once users download the application from the Android Market and install the Tooyoou billboard on their devices, Tooyoou's pay-per-click ad network opens the user's home screen space for real time bids to their advertising partners. Tooyoou rewards its users with a 20% share of their cost-per-click bid revenue and with reward points for being active users of its platform. Tooyoou app users can simply login to Tooyoou Website to spin a rewards wheel and redeem their Tooyoou points for cash.
Advertisers may advertise their products and services on Tooyoou based on their product category and geo-location for as little as $0.05 CPC. Metrics suggest Tooyoou ads have exceptionally low accidental click through rates (~0.01%), coupled with extremely high visibility and phenomenal user engagement. For the first time in mobile advertising on Android devices any custom ad creatives can be published directly on the home screen of an Android device in real time through Tooyoou's proprietary ad serving platform.
Tooyoou Android app is currently available for download to Android device users in the USA only.
Please visit Tooyoou Website for more information.