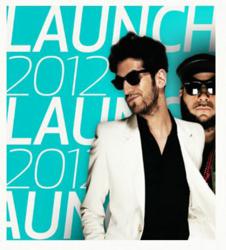 Sacramento, CA (PRWEB) May 30, 2012
LAUNCH Events is pleased to announce the 2012 LAUNCH Festival, an annual celebration of music, art, fashion, design and architecture July 23rd – 28th in the heart of Sacramento.
Since its inception in 2009, LAUNCH has grown from a single day event highlighting talent from the local community to a six-day celebration of local, regional and internationally acclaimed artists, designers and creatives.
Hosted at multiple venues throughout midtown and downtown Sacramento,LAUNCH is curated by some of the brightest artists in and around Sacramento to not only showcase their peers, but also introduce the community to a new generation of talent across multiple artistic platforms.
LAUNCH 2012 kicks off Monday, July 23rd when Model Citizens NYC outfits Hot Italian restaurant for an exclusive designer showcase, and concludes Saturday, July 28th when the LAUNCH Music Festival takes over Cesar Chavez Park featuring performances by Chromeo, DJ Shadow, Grouplove , !!!, Sea of Bees and more.
Visit http://www.launchsacramento.com for a full schedule of events, artists and ticket prices.
Monday, July 23rd: Model Citizens NYC @ Hot Italian Restaurant
Pop-up artisan retail from local and national designers.
6PM – Invite only event (open to public throughout the week)
Tuesday, July 24th: Capital Indie Collective @ Bows & Arrows
Silent movies with live scores played by local musicians.
7PM - $8 pre-sale/$10 door
Tuesday, July 24th: Le Twist @ Dive Bar
DNTEL of Postal Service headlines this event featuring classy and eclectic music from local DJ's.
9PM – No cover charge
Wednesday, July 25th: Launch Midtown Sacramento @ MARRS Building
Architects and designers create visionary installations with performances by local musicians.
5PM – No cover charge
Wednesday, July 25th: Concerts 4 Charity presents King Tuff @ Harlow's
8PM - $8 pre-sale/$10 door
Thursday, July 26th: Cut&Paste @ Ace of Spades
Digital design battle set to live music.
7PM - $15 pre-sale/$17 door
Friday, July 26th: Envision Talks @ California Museum
Inspiring talks from Llisa Demtrios and other creatives.
1PM - $20 pre-sale/$25 door
Friday, July 27th: Fashion Showcase @ The Landmark Building
Internationally acclaimed designers take charge of the runway with captivating creations.
7PM - $50 pre-sale/$65 door
Saturday, July 28th: LAUNCH 2O12 Festival @ Cesar Chavez Park
Live performances by Chromeo, Grouplove, !!!, DJ Shadow and more.
11AM to 11PM - $35 pre-sale/$45 door