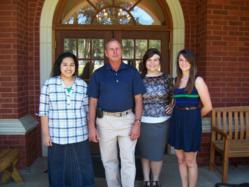 Danville, AR (PRWEB) May 27, 2012
The 2012 recipients of the college scholarships include:

Danville High School 2012 Graduate, Emely Sierra, Daughter of Jose and Edis Sierra, received a $500.00 scholarship. Emily will be attending Arkansas Tech University in the fall and is currently undecided on her major.
Danville High School 2012 Graduate, Ibette Alcocer, Daughter of David and Maria Alcocer, received a $1,000 scholarship. She will be attending Arkansas Tech University and will major in Middle Level Education and Minor in Business and Spanish.
Pottsville High School 2012 Graduate, Rebecca Polacek, Daughter of Leonard and Lisa Polacek, received a $1,000 scholarship. Rebecca will be attending the University of Central Arkansas and will major in Pediatrics and Clinical Psychology.
"Wayne Farms believes in the importance of higher education for our youth," says Nancy Frick, coordinator of the Wayne Farms scholarship program. "We are so proud of the academic achievements of these individuals and we wish them much success in their future career endeavors."
The Wayne Farms Danville facility consists of a 79,783 square-foot processing plant, 25,658 square-foot feed mill and a 39,280 square-foot hatchery. The facility employs more than 800 people from Perry, Pope and Yell counties.
About Wayne Farms LLC
Wayne Farms LLC is the fifth-largest vertically integrated poultry producer in the U.S. with annual sales exceeding $1 billion. A subsidiary of Continental Grain Company, Wayne Farms owns and operates 10 fresh and further-processed facilities throughout the Southeast, produces more than 1 billion pounds of poultry products each year, and employs more than 8,900 individuals.