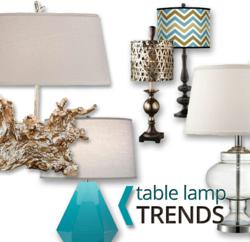 Bring a new style to your decoating - the trend in table lamps is to the big, the bold, and the colorful, using glass and metallic finishes.
Los Angeles, CA (PRWEB) May 29, 2012
Decorating styles for 2012 have been big, dramatic, and full of rich, vibrant color. The idea is to be unique, grab attention and make a statement. We've seen lots of daring color in furniture design, including primary colors in fabrics, Union Jack-themed couches and side tables, and dramatic tables with a steampunk, industrial loft look. Accessories and home accents are just as bold, with chic tones of silver, gold and tangerine tango, the designer color of the year. Not to be left out, a wide range of new designer lamp looks have followed, offering exciting new looks that will add a new brightness to your home decorating. Here are our top 5 table lamp trends for you to explore.
Big and Bold Bases
Lighting designers have gone big and bold with the lamp bases themselves. "The footprint of many lamps has gotten larger over the last couple of years," says Lamps Plus blogger and designer Marcia Prentice. "The idea is to make the lighting a dramatic and sculptural focal point for the room." On-trend looks include designs with a carved, antique appearance and organic-shaped bases that mimic forms found in nature. Elaborates Marcia, "To bring in an organic look, I love using big lamps that have a big wooden base or designs that have the look of driftwood or salvaged wood."
Bright Colors
Fashion often leads the way in the exploiting new color trends. Runway inspired decor makes its presence felt in a range of brightly colored modern table lamps. Cool teal blue, more intense cobalt blue, bright and poppy tones of lavender, and glittering color treatments are all making a splash this year. And then there's tangerine tango, the Pantone color of the year. "This is a really intense color, so a little goes a long way," notes Marcia, "but it provides a wonderfully warm and intense blast to spice of bedrooms, seating areas and more."
Clear Glass and Mirrors
To balance out some of the other big and bold room elements, designers are turning to glass and mirrored lamps. Designer and blog writer Lesley Myrick says that "Glass table lamps offer a clear and pure form that provides sparkle without fighting with other colors or shapes in a room design. With glass lamps, you can see through the body to get a glimpse of the other things going on in the space. They don't conflict with other things going on." Mirrored table lamps offer more punch, reflecting textures and colors used throughout a room. "Mirrored lamps are really cool to use in smaller rooms or anywhere you want to add a little splash and dazzle," says Lesley. Both the glass and mirror offer a taste of the hot Hollywood Luxe design look, a style that draws inspiration from classic Hollywood set design and home styles from the 1930s and 1940s.
Metallic Table Lamps
It's not just splashy colors and eye-catching glass that's turning heads. Bold metallic tones of silver and gold are also being used. Observes Marcia, "Metal table lamps offer wonderful texture and glitter. They really make an impact in a room, especially when set against more organic elements or soft wall paint colors." New designs are even bringing back an old favorite from, the brass table lamp. "Brass is a really appealing metallic tone for lamps," says Marcia. "I love using them to give an extra layer of richness for a room."
Custom DIY Looks
With the boom in DIY home projects and Etsy crafting, there's also a big movement of customizing table lamps to create unique designs. Adding new trim or ribbons to a shade is one easy way to add a little personalization. "I'd also suggest looking at a new finial," suggests Lesley. The lamp shade finial is the decorative top of the shade. These screw down onto the lamp spider to hold the shade in place. "You can find lots of really unique, inexpensive finials; there's everything from cool abstract shapes to animals and more." For those who want more customization, companies such as Lamps Plus offer online tools that allow users to customize existing shade designs "I'm a big crafter, so I love the idea of being able to create my own look to fit the style and mood of the room I'm designing. Anything unique really adds to the appeal of a room space." Lamps Plus offers a number of customizable designs with the Design Your Own Custom Lighting tool, which is available online, and offers a number of ways to make your own lamp.
About Lamps Plus
For more than 30 years, Lamps Plus has been synonymous with excellence in the lighting retail industry. Established in 1976, Lamps Plus is the nation's largest specialty online lighting store with more than 40 superstores throughout the western United States. Together with their retail lighting stores and online business, Lamps Plus serves customers nationwide with the largest selection of functional and decorative lighting fixtures, accessories, furniture and home décor. This selection includes hundreds of products available exclusively from Lamps Plus. Services include in-home lighting consultations, in-store lighting workshops and installation from expert, licensed electricians. American Lighting Association certified lighting designers are available to offer product recommendations and lighting advice in all our stores, by phone or online at LampsPlus.com.
###