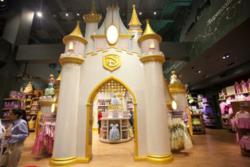 This tour is truly a unique opportunity for parents and children to bond
New York, NY (PRWEB) May 29, 2012
An innovative concept inspired by the "Toy Story" movies is guaranteed to enlighten and entertain visitors to the Big Apple of all ages. Feel empowered and discover the magic and wonder of being a kid again with the new Toy Story Tour run by Uncle Sam's New York Tours. The three-hour tour is one of the four New York Shopping Tours offered by the company. The Toy Story Tour will escort tourists on a New York excursion to the city's most unique toy and concept stores. Participants on this grand tour will be treated like a VIP without the hassle of waiting on notoriously long lines of New York City Toy Stores.
Owner and founder, Samuel P.N. Cook of Uncle Sam's New York Tours, commissioned the tour as part of an expanding set of shopping tours the company is offering. "When Janet came to me with the idea of a Toy Shopping Tour, I thought back to my childhood days when I eagerly anticipated Christmas and Birthday presents from my grandmother such as LEGO, Star Wars action figures, and so many other great memories from that time in my life."
Uncle Sam's New York is a company specializing in daily historical New York Walking Tours, World Trade Center Tours, shopping tours, pub crawls, nightlife tours, and luxury private tours around New York City.
New York stylist, Janet Racy, who runs the shopping tour division of Uncle Sam's New York Tours, created the Toy Story Tour for the young at heart. "I have always loved children," said Janet Racy, "and I think this tour gives parents a chance to relive the magic of their childhood while also seeing the toys that are the object of their children's desires. It is truly a unique opportunity for parents and children to bond."
The Toy Story Tour gives visitors to Manhattan an exciting fun-filled adventure complete with trivia, entertainment, special events, stops at numerous toy and concept stores (including FAO Schwarz, The LEGO Store, Build-A-Bear Workshop, Eloise at the Plaza, 77 Kids Style Lab and the Disney Store) plus the best candy stores ever. It's an affordable, rewarding experience for the whole family that will last a lifetime! This tour is sure to be popular around the holiday seasons and during school breaks.
Uncle Sam's New York is a recognized leader in the tourism industry providing daily historical walking tours, evening pub crawls, and nightlife tours, giving guests a variety of options to experience the heart of New York City on a personal, social level.
"Between day, evening and late-night tours, Uncle Sam's Walking Tours has something for everyone.'-New York Daily News
According to NYC and CO, New York City is the most frequently visited city in the world topping 48.8 million visitors per year. Mayor Bloomberg has publicly set the goal of attracting 50 million visitors a year to New York City.
Ten percent of the profits from the tour will be donated directly to St. Jude's Children's Research Hospital. The Toy Story Tour embarks every Saturday at 10 a.m. and lasts three hours. Private tours can accommodate groups upon request.
For further information on The Toy Story Tour or to schedule press interviews with Samuel Cook or Janet Racy, please contact Janet Racy to discuss options for interviews of guided previews of the tour.