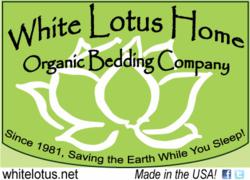 The goal is to educate families about the myths and benefits of living a healthy, green lifestyle.-Marlon Pando, owner, White Lotus Home
Highland Park, NJ (PRWEB) May 27, 2012
White Lotus Home, a company that began on the first Earth Day, 1981, honors the spirit of Earth Day by collaborating with green living experts from around the country to bring helpful tips on making sure homes, particularly bedrooms, are non-toxic. More research is being done on the hazards of living with chemicals and toxins in our homes and White Lotus Home is staying on top of the news. In the latest Department of Health and Human Services Report on Carcinogens, (RoC, 2011), formaldehyde was added as a "known carcinogen."
Formaldehyde is used in processing bedding to impart "permanent press" or in many polyester/cotton blends. White Lotus Home shares information on creating a non-toxic bedroom in their online newsletter and a lecture series with the experts is being discussed. More information can be found at http://www.whitelotus.net. See the complete RoC report at: http://ntp.niehs.nih.gov/ntp/roc/twelfth/roc12.pdf.
The goal, says President and owner of White Lotus, Marlon Pando, "is to educate families about the myths and benefits of living a healthy, green lifestyle." Pando has been working on this project with Debra Lynn Dadd, who was called the Queen of Green by the New York Times. Dadd has been an advocate for living and sleeping in an eco-friendly, non-toxic manner for over 30 years. She is just one of the several experts that will be a part of this collaborative effort.
For families, everyone sleeping on non-toxic bedding is important, but this is especially true for infants and children. In 2009, the Consumer Product Safety Improvement Act (CPSIA) banned phthalates from "all toys and child-care articles" but this did not include mattresses. Phthalates are plasticizer chemicals found in many crib mattresses as they soften PVC/vinyl to make it pliable for manufacturing, but phthalates are known toxins. They have been linked to hormonal, respiratory and endocrine system problems. Green experts agree that organic bedding is one way to insure a safe sleep.
With allergies and health concerns on the rise, going organic is becoming more commonplace and a welcome addition to the home, particularly the bedroom. If you have trouble sleeping at night, Debra Lynn Dadd suggests investing in formaldehyde-free sheets because "formaldehyde can cause insomnia." Switching to more natural and organic bedding, she states, will not only improve the quality of a person's sleep, but also help overall health by promoting a natural detox while you sleep.
Marlon Pando, of White Lotus, agrees with Dadd about non-toxic mattresses and bedding. He recommends "your bedding be composed of natural fibers that can help build a sleep sanctuary. We are so eager about the natural and organic lifestyle because it begins by improving individual lives… and then expands to improving the greater community and eventually the world." You can find out more about going non-toxic in your home at http://www.whitelotus.net or call White Lotus Home at 732.828.2111. Check back often for updates on the upcoming lecture series.