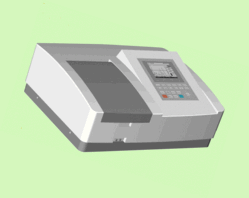 Farmingdale, NY (PRWEB) May 27, 2012
NSG Precision Cells, a world leader in the cuvette industry is proud to announce a select line of UV/VIS spectrophotometers that operates both in the VIS and UV range. With optics made in Japan, the superior standards confirm premium quality results with cost effective prices.
With over 50 years of expertise in the quartz optics industry, NSG Precision Cells has expanded their product line to include these high grade, affordable UV VIS spectrophotometers.
As any added bonus NSG specializes in calibration standards as well as the production and design of superior quality fire fused cuvettes, microfluidic chips and cells. By the same token, NSG supports scientists and researchers so they are able focus on projects safety, securely and more efficiently. NSG also offers custom manufacturing of UV, VIS and infrared (IR) spectrophotometer calibration standards and can custom make a UV spectrophotometer to meet any labs needs.
Features
Because all compounds have a unique UV/VIS spectrum that includes absorption wavelength and molar extension they can be used to identify different chemicals and their intensity. In addition, analysis of UV/VIS is a widespread technique in applied research, pharmaceuticals, chemistry, life sciences, quality control and basic research.
If possible the UV/VIS spectrum is scanned using full-spectrum instruments, however many industries use separate devices when scanning UV and VIS spectrum. On the other hand, the new NSG UV/VIS spectrophotometer line offers machines that work in both the ultraviolet (UV) and visible (VIS) range. As well, the line includes a wide array of both single beam and double beam machines along with many other features. In fact, their new line has at least 10 single beam scanning spectrophotometers and over 5 with double beam scanning.
The advanced UV VIS spectrophotometers have a wavelength range between 190 and 1100 nanometers (nm), which is an extensive range compared too many spectrophotometers on the market.
Depending on the model, the UV spectrophotometer bandwidths can vary from 0.5 nm to 4 nm. As well, the stability ranges include ±0.001 A/h, ±0.002 A/h and ±0.002 A/h for single beam scanning and ±0.0005 A/h for double beam scanning.
The NSG's UV/VIS spectrophotometers offer a quality stray light performance in <= 0.5% T range which exceeds UV and VIS calibration standards. Moreover, the new line of UV spectrophotometers offers other beneficial features such as high accuracy, powerful PC software operation, a large LCD screen, a USB port, PC controlled wave length drive and intelligent or stand-alone type depending on the model.
For spectrophotometer calibration, NSG also offers a dual light stray calibration standard that verifies the stray light performance in both the UV and VIS range. Generally, liquid filters test the stray light performance in 3 areas of the UV range and 2 to 3 areas of the VIS range. As well, a different kit of liquid filter is needed for every range so that accuracy and precision of testing is confirmed. It is not uncommon for a laboratory to use 5 to 6 liquid stray light filter kits to test stray light performance. This is not a cost effective solution since every kit can cost up $1000 or more. With just one stray light filter a laboratory can save thousands of dollars in not just testing and in frequent verification.
NSG Precision Cells focuses on complete quality manufacturing and designing of UV/VIS spectrophotometers and other products. With decades of proficiency and knowledge combined with solid support, incomparable quality and service is not only offered but guaranteed. Conclusively, researchers and scientists can meet the demands for optimal performance and precise results. The new UV VIS spectrophotometer line is indisputably the perfect solution for all types of laboratories.